A brand new season of F1 racing got underway down under this weekend in Melbourne, Australia.
And stepping straight to the top of podium for the first F1 race was Sebastien Vettel. The Ferrari driver stole an early lead in the standings, in what's set to be a legendary season of racing. In 2018 it is assumed that Vettel and Mercedes driver, Lewis Hamilton will go head-to-head to determine who will become the most successful F1 racer of their generation, by claiming a fifth world title. And if the Melbourne race is anything to go by, it's set to go down to the wire, particularly with other teams looking to throw a spanner in the works. Who's your money on?
After receiving a controversial grid penalty, Red Bull Racing driver Daniel Ricciardo finished in fourth place on home tarmac, recording the fastest lap time in the season-opener. Post-race, the Perth-born driver said he firmly believes Red Bull Racing could have the fastest car of the three leading teams on the circuit this year.
Competing in the RB14, wrapped in its stylish matt blue livery, F1 fans will have to wait and see if Red Bull can compete for podium finishes. But in terms of the style stakes, this stunning car is definitely up there in pole position.
And we were lucky enough to get up close to this fantastic piece of motorsport engineering before the start of the season.
In February, our Totally Dynamic Norfolk team were asked by Red Bull Racing to wrap a stunning Aston Martin DB11 in the style of the fan-favourite shakedown test camo livery.
Our team wrapped and delivered the DB11 earlier this February, ready for the team's Silverstone shakedown test. And it was Aussie driver, Daniel Ricciardo who got behind the wheel, driving the wrapped DB11 to the famous British track, before pre-season testing began.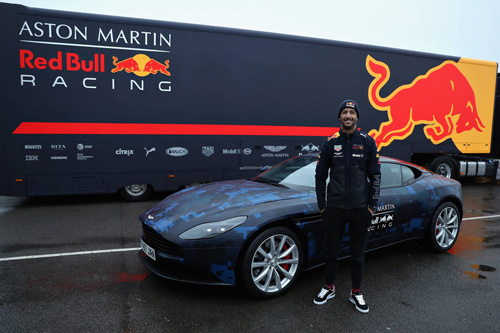 You can see the Red Bull Racing DB11 full vinyl wrap, in all its glory, in our news section and check out the video on our <\iframe">Facebook page Watch as our Totally Dynamic team complete this dramatic Aston Martin Red Bull Racing transformation.
Want more insight about the first race of the F1 season? No-one knows more than the drivers themselves. Head over the official Red Bull Racing website to read Ricciardo and Verstappen's personal accounts of the Australian Grand Prix.
Here's to a fantastic F1 season.