Artwork
Our experienced creative team can undertake your complete vehicle wrapping project from initial concepts to finished print production.
Should you wish to supply your own vehicle wrap artwork, we have created a guide to assist you in how to provide the finished files.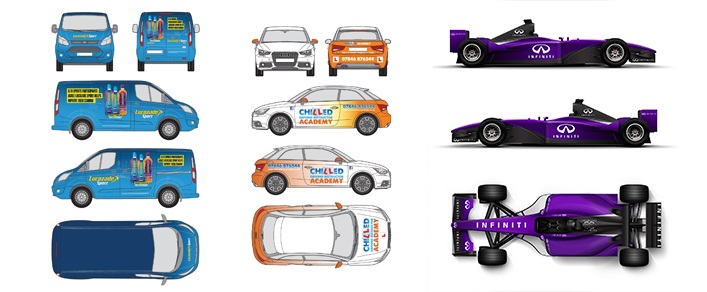 What artwork is useable?
Artwork can be accepted via the following media: CD, DVD, FTP and email.
Vector files
Vector files should be saved as .ai or .eps with all fonts converted to outlines. Where possible these files should be opened in Adobe Illustrator, scaled to finished size with colours set to a pantone reference.
Areas that are required to be 100% Black should have 75% Cyan with 50% M+Y added and greys should have a percentage of CMY to give a solid appearance with minimum banding.
Any bitmap images should be embedded at a resolution detailed below and set as CMYK.
This kind of artwork is the most reliable and easily adjusted.
Bitmap files
Where possible we request that files are left as a layered PSD. This will give us the ability to move individual areas should they be too close to door handles etc.
Bitmap images can also be saved as tiff or jpeg files. If you have an image that is greyscale or has been created using only black it should first be converted to RGB and then to CMYK. This will print your black and white images using all the process colours achieving smooth grey tones with no banding.
If complicated colour matching is required please supply your job as a layered psd file with each layer rasterised.
If these steps are followed printing from a bitmap is a reliable process.
Resolution
To achieve the best results from our vehicle print systems, images should be set at 75dpi when scaled up to full size. This will minimise file space whilst retaining maximum quality.
Colours
When work has been saved as detailed above, our print systems will output to the manufacturers preset representation of a colour. This is what the manufacturer considers to be the closest all round set up for good colour reproduction.
In reality, no digital print machine can be expected to print an exact colour match without the operator making adjustments. If we are instructed to make sure specific colours are a close match our skilled operators will make the required adjustments.
Potential problems to be aware of
Always supply a hard copy to ensure your printed job is exactly as you require it.
The colours on your computer monitor will usually appear different to the CMYK values making up your colour (as an example a colour saved as 100% Magenta 100% cyan may look blue on your screen, but is, and will print purple on any print process).
Try to supply pantone references and explain if these are just guides or to be colour matched closely.