At the end of the year, it is a Totally Dynamic tradition to review our favourite vehicle wrapping projects of the past 12 months. And although this year has been anything but normal, it is still a good time to stop, pause and reflect on what has been achieved. Despite you know what!
2020 has been somewhat of an unpredictable corona-coaster, and unlike any other time we can remember in our 15 years in business. But; our Totally Dynamic teams have continued to deliver outstanding vehicle wrapping work for our clients.
Only shutting our workshop doors for two out of 12 months, our North London and Norfolk centres have welcomed new clients through the doors (wearing masks and at a safe distance, of course) to wrap cars, vans, lorries, catering vehicles, combine harvesters and even a Tiger Moth plane!
Like so many businesses, Totally Dynamic has needed to adapt, but we have rolled with the pandemic punches and end the year smiling.
So; as we wave goodbye to 2020 (thank goodness!) here are some of our favourite pieces of work to come out of these turbulent times, as selected by our centre managers in Norfolk and Enfield.
Lots of exciting projects are already in the pipeline for Totally Dynamic in 2021 and we cannot wait to get started.
If you are looking ahead, and making plans for branding, marketing or promotional campaigns and need a professional, creative vehicle wrapping provider or you would like your personal vehicle wrapped by us, please get in touch to discuss it with our team.
Norfolk manager, David Sweales – My top 3 wraps of 2020
A rare chance to work on a Tiger Moth plane. We wrapped the nose of the plane in a Union Jack design, before the owner took to the air. Applying the wrap onsite at the airfield, it was a real highlight and such a fun thing to do during this strange year.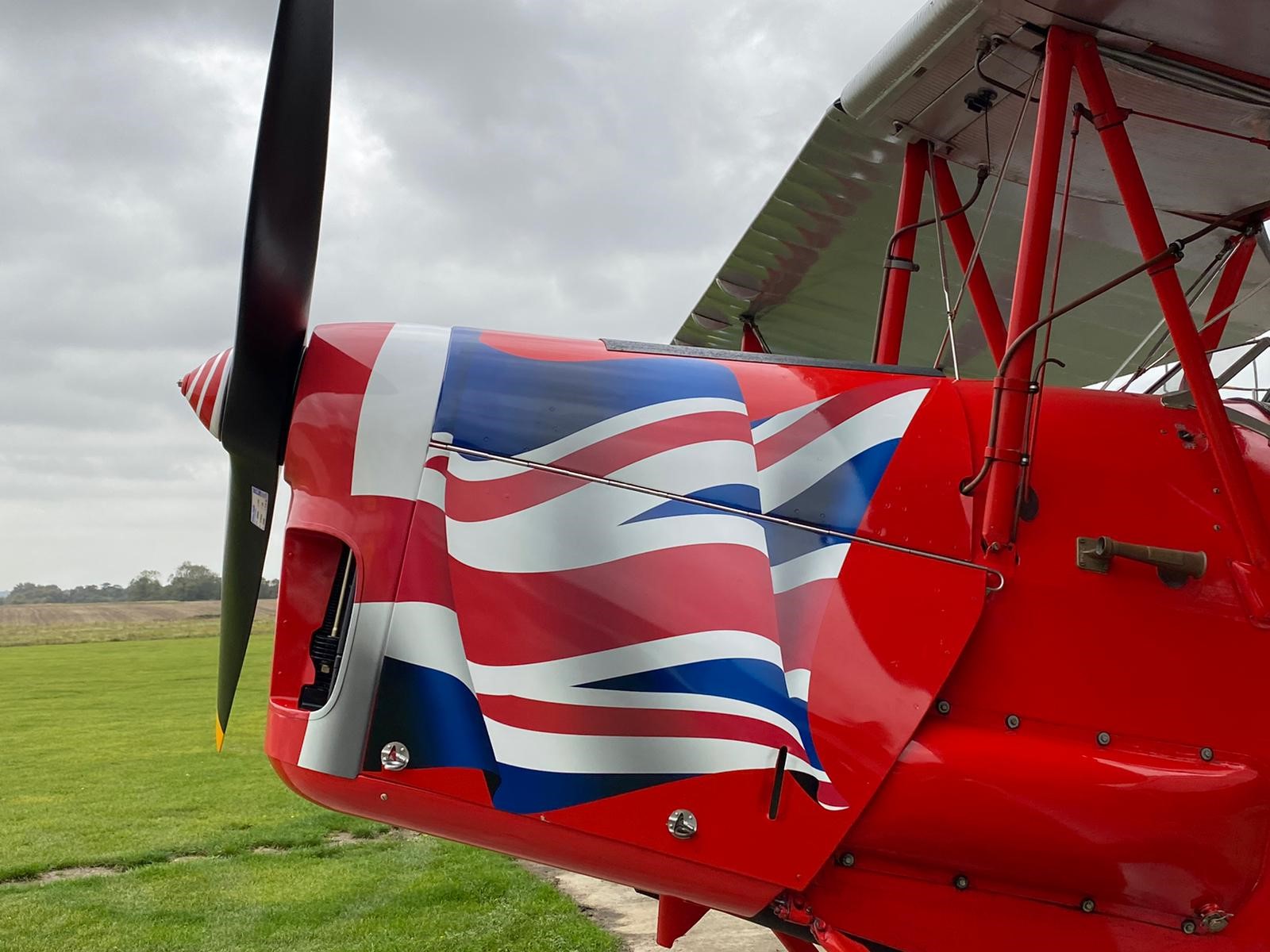 We have been absolutely spoilt with the number of supercars we have wrapped in 2020. The team have wrapped a Porsche Boxster in purple chrome, completed full body colour change wraps on two McLaren's and wrapped a Ferrari F430 Spider in a classic red. Seeing a supercar pull up always puts a smile on our faces. World-class cars that we love to wrap with utmost care and attention to detail.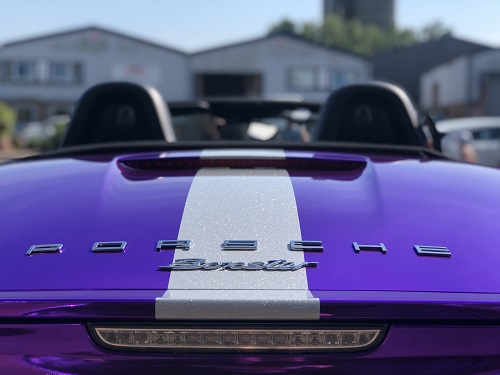 Cheers to a door wrap with a difference
As well as wrapping cars, vans, lorries, vehicles and generally anything on wheels, we also wrap items for homes and public spaces, including walls, doors, tabletops and interior panels.
One client came to us wanting to create an internal door with a difference. A big fan of a certain brand of bubbles, we wrapped the glazing of the door to replicate the steps to the Veuve Clicquot champagne cellar in Reims, France. Next to the door stands a wrapped fridge, also in a Veuve Clicquot theme. We love working on wraps that are totally unique and different; delighting our customers with designs you will not see anywhere else.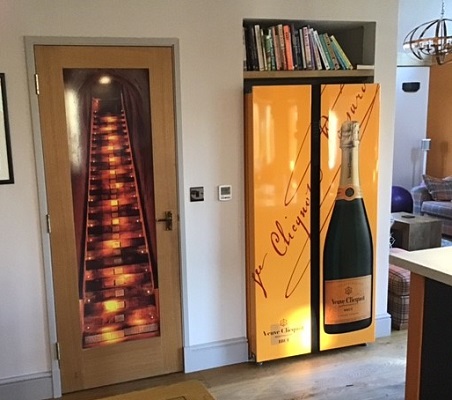 North London manager, Scott Coleman - My top 3 wraps of 2020
Some businesses have flourished during the pandemic, and Farmdrop is a prime example. Based close to us in Enfield, the business started out as a fresh produce delivery service and has boomed during lockdown. We have wrapped ten of their electric vans this year, with more set to arrive in the workshop in 2021. The pandemic forced us all to change how we shop for groceries, and Farmdrop have responded brilliantly. A real success story and a local, independent business that we are proud to work with.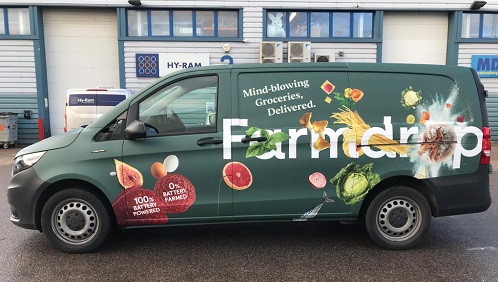 Satin black Dodge Challenger Hellcat Redeye
We transformed this American Dodge Challenger from red into satin matt black with a full body wrap. With a 6.2L Supercharged Hemi engine, this model was, at one point the fastest production muscle car in the world. Celebrating its 50th anniversary in 2020, Dodge launched a Gold Rush Challenger model to mark the occasion, with this colourway extended to select models in 2021 (adding it to your Christmas list?). The ultimate muscle motor, and a rare sight in the UK, transforming this iconic beast of a car was a highlight of the year.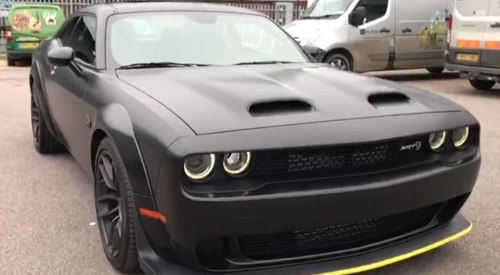 Tesla wraps take off in 2020
We have experienced a surge in the number of all-electric and hybrid vehicles being booked in for wraps this year, particularly Teslas. With Tesla reducing the number of colourways its vehicles come in, to streamline its production, it means owners might struggle to get the colour they want. Booking in your Tesla for a full body wrap or colour change with Totally Dynamic is a win-win. You get to drive around in an all-electric vehicle, reducing your emissions, while it looks fantastic too.
And one last-minute addition to the list which we couldn't leave off. Just as we write this, we have wrapped a McLaren 620R in a replica of the 620R race cars for a Christmas present. The customer has had the car collected and loaded on to a plane to be taken to his home country in Asia. Driving and flying home for Christmas.