British summertime has officially started! Will we be basking in glorious sunshine in a few weeks, with temperatures reaching the record highs of 2018? Here's hoping!
One Totally Dynamic customer who remains cool and collected whatever the weather is Chilled Driving Tuition, a fantastic driving school in Norfolk. The business has worked with us at Totally Dynamic since 2011 and we're proud to have wrapped and re-wrapped these Chilled cars more than 100 times.

The business was founded by Alan Brazewell. After a successful career in retail Alan retrained as a driving instructor and, after two years working with another firm, decided to set up his own business.
"I wanted to create a premium driving school, where pupils enjoy the learning experience and where professionalism and detail are key," explains Alan. "I also wanted my school to stand out from the crowd from day one – that's where Totally Dynamic came in."
Alan asked a graphic designer friend to come up with the initial creative concept for the Chilled vehicles, but it wasn't until he stumbled across the Totally Dynamic website and saw a wrapped Lotus that he discovered just what could be achieved with vehicle wrapping.

"I called David Sweales who runs Totally Dynamic in Norfolk and we began discussing ideas for full wraps that would ensure Chilled cars grabbed the attention of anyone who saw them," he says. "Many driving schools have limited or unadventurous branding on their vehicles: I wanted to be completely different. Based on the initial design, David created a visual identity that has made a huge impact on my business. Our graphics are bright, fresh and clear and the wrap design is adapted to complement the contours of each car in the fleet so that they look professional and stylish. Around 40% of our new pupil enquiries are as a result of people seeing the wrapped cars which is incredible."
Alan now has 42 cars in his fleet, and has since expanded the business to include five sub-brands:
Intensively Chilled which offers an intensive week-long course
Automatically Chilled for people who prefer to learn in an automatic vehicle
Towtally Chilled for those wanting to learn how to tow a trailer or caravan safely
Chilled Young Drivers which offers experience days for young people getting ready for driving lessons.
Chilled Driving Instructor Academy, which is used to train all the schools future instructors

Totally Dynamic has wrapped vehicles used for the five sub-brands in colour coded designs, creating a consistent look across the whole fleet.

Jenny Rope is marketing manager at Totally Dynamic and says. "For a business such as Chilled Driving Tuition the benefits of vehicle wrapping are fantastic. Whilst Alan's instructors are teaching pupils, they are advertising the school at the same time. Importantly, in the case of an accident or damage to the bodywork, we can re-wrap particular sections of a vehicle or update areas of the design if necessary."
David Sweales, our Norfolk centre manager adds; "Chilled Driving Tuition is a long-standing client, and we're always looking for ways to keep the vehicles looking fresh and on-brand. Last year, Chilled came to us with a design for a brand new livery, which we have applied to some of the vehicles already. Bold, smart, clear branding and fresh new vinyl wraps means the Chilled cars are easy to spot out on the roads, and give new drivers a sense of pride as they step behind the wheel for the very first time."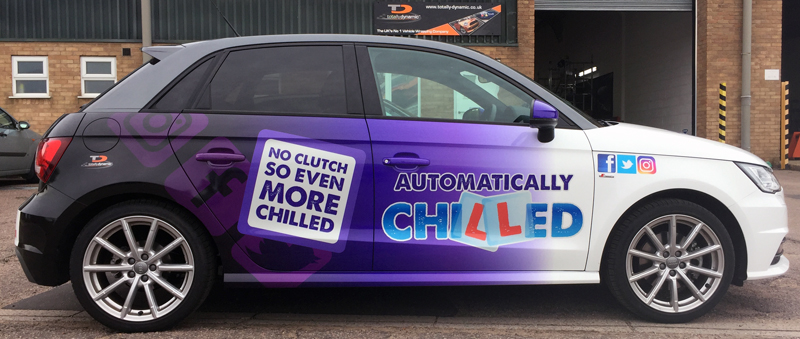 "When Alan is ready to replace vehicles, we remove the vinyl and the paintwork beneath is in pristine condition. When you are returning a leased car this reduces the likelihood of financial penalties and if you're selling it, the resale value is maximised. Another added bonus of vehicle wrapping."
Apply a cool new look this summer by wrapping or re-wrapping your fleet with Totally Dynamic. Contact our team today.