This is one of our favourite jobs of 2018, a bright pink vinyl campervan wrap for inspirational writer and activist, Scarlett Curtis.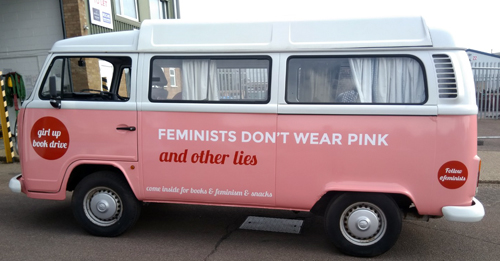 Scarlett's book 'Feminists Don't Wear Pink and Other Lies' became a Sunday Times bestseller and National Books Awards winner this year. A collection of powerful stories written by female comedians, poets, actresses, influencers and others, Scarlett's curated an important collection of essays about extraordinary women and what the F word, feminism, means to them.
Taking the book on a nationwide tour, Scarlett approached the Totally Dynamic Norfolk centre to ask us to wrap her campervan in the style of the book cover, and here's the end result! A bright pink design which cannot fail to be noticed as the Feminists Don't Wear Pink! tour hit the UK roads earlier this year.
Travelling throughout the country, Scarlett has hopped in the freshly wrapped campervan to take her book to fans in Manchester, London, Henley and Cheltenham Literary Festivals. Spreading the 'F' word far and wide.
If you're planning a promotional tour or launch in 2019, and want to find out more about how our vinyl wraps can get you noticed, please get in touch, we'd love to help you shout loud and proud about your next project.