The World's Toughest Drive competition is on! A team of three adventurers have attempted to break a Guinness World Record and complete the fastest drive to the South Pole. Our Totally Dynamic team had the great pleasure in wrapping the high-tech, specifically adapted 4×4 vehicle, nick-named 'Polar', in readiness for her World's toughest drive challenge.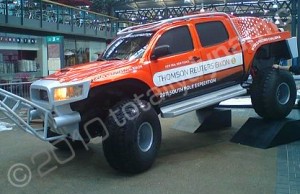 'Polar' was originally a domestic Toyota Hilux 4×4 until she was specially modified to deal with the unusual terrain. Boasting 44-inch tyres, a V6 engine and specialist suspension the transformation was not complete until she received her printed chrome wrap . We were extremely privileged to get up close and personal with such a key member of the team and thought that her wrap completed her look to take on the World's Toughest Drive encounter.Sponsored by Thomson Reuters the World's toughest drive quest was embarked upon by expedition leader Jason De Carteret, who holds the current world record at just under three days, design engineer Kieron Bradley and a member of the public who won a competition to become a member of the three man team, Jason Thomas.
Faced with sub-zero temperatures, treacherous conditions and high speeds filming the World's Toughest Drive was not an easy mission for the film crew either. With such an unusual serious of challenges and being up against the clock there was no room to stage scenes, it was a case of film the action as it happened. The drive was commissioned by Discovery Network International to be aired as a two series and follows the team as they embark on their record breaking attempt.
We certainly enjoyed wrapping 'Polar', and we can't wait to see whether the team's attempts to become record breakers in such extreme conditions were a success.
The first episode of the World's Toughest Drive was aired on the 21st June at 9pm but two can be seen this Thursday (28th) at the same time on the Discovery channel, and repeated on the 29th June at 8pm. We'll be watching we hope you will be too.