With a high-speed flash of sparkling supercar superpower, Totally Dynamic is set to outstrip, outshine and out-dazzle the rest of the competitors when the flag goes up on the world's wackiest race, the Gumball Rally, this weekend.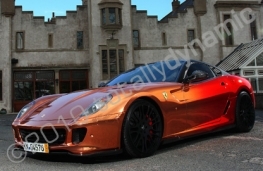 The UK's most successful vehicle wrapping company has beaten everyone else in the industry to create a gleaming coloured mirrored Ferrari 599GTB Sports Coupe, using a unique, up-to-the second printing process onto mirror foil.
In a world first for the highly competitive vehicle wrapping sector, Totally Dynamic's specialist skills now mean that any colour, or blend of colours, can be printed directly on to the mirrored foil. On the £200,000 Ferrari, the sumptuous copper gold mirroring at the front merges beautifully into a stunning mirrored scarlet back end.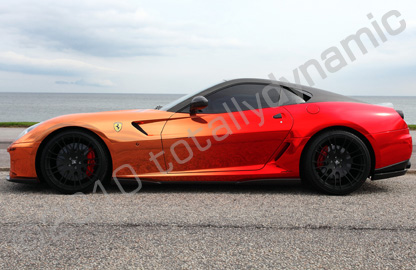 Up until now people wanting their cars wrapped in mirror foil only had the choice of silver or gold.
Even in a field of some of the most exotic cars in the world, Totally Dynamic's stunning creation is the one which will turn the heads as the 3000-mile race crosses continents and oceans to a thrilling finish in New York.
Managing Director Adrian Rope said as the supercars gathered in London for the high-tension start: "What better way, and on what better car, could the message about Totally Dynamic's technological supremacy be taken round the globe?"
The story of how the Ferrari owner and Totally Dynamic's breakthrough for large scale vehicle wrapping came together is remarkable enough in itself. The car is being raced by Singapore-based technology multi-millionaire Guy Macgregor, who originally comes from Aberdeen, and his driving partner Marcus Engstrom, who is based in Monaco.
Guy had approached Totally Dynamic to transform his Aston Martin for last year's Gumball, but he ran out of time for the gruelling event. This year, he wanted "something completely different" for the race, which runs through some of the most demanding roads in Europe and North America.
He said: "When you are dealing with cars of this calibre, you want the best people working on them. I had heard of some of the other fantastic jobs Totally Dynamic had done and, as a Scot, I was happy to have a Scottish team working on the car.
"But the important thing was that Totally Dynamic is clearly the best and most progressive company working in this field. Their attitude is so refreshing – quite simply, whatever the customer wants, they will make it happen."
The Ferrari, which was originally a brilliant white, was flown in from Marcus's Monaco home to Aberdeen – where Guy has a country estate – for specialist tuning. Then it was taken to Totally Dynamic's Cumbernauld centre, where centre owner Adam Sharpe accepted the challenge of creating something that no one else had ever successfully achieved.
Adam said: "Guy wanted something which would really catch the eye as the cars raced through Amsterdam, Copenhagen and Stockholm before being airlifted across the Atlantic to power through Boston, Montreal, Toronto and New York.
"The team and I burnt the midnight oil trying to come up with a solution which would deliver what the customer really wanted. We called in Adrian's technical expertise and, after running batteries of tests, we finally made the technological breakthrough we had been looking for."
Adrian, who has pioneered some of the most innovative and exciting vehicle wrapping projects in the world, said: "This Ferrari project was a wonderful challenge. No one had ever been able to create anything other than silver or gold mirror wrapping before and now our team has come up with a solution which opens up a whole new world of colour for sophisticated and demanding customers."
Word has quickly got out about Totally Dynamic's extraordinary success and Adam has already taken orders from four more supercar owners who want their vehicles given the wrapping industry's most up-to-date treatment.
Guy, who will be competing against celebrities such as Dizzee Rascal, Xzibit, Jade Jagger and David Hasselhoff, said: "Marcus and I will be up against some of the best supercars in the world, but we are happy that – thanks to Totally Dynamic – our Ferrari is the one which will stand out a mile."