And the winner, by a big Red Nose is Scott Coleman and his talented team of vehicle wrap experts in Totally Dynamic's South London centre, who transformed warm-hearted former Dragon's Den star Theo Paphitis' brand new Range Rover into an eye-catching promotional vehicle for this year's Comic Relief.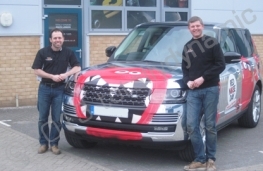 Theo had his fabulous new Range Rover V8 TDi Autobiography transformed into a shimmering chrome classic adorned with hilarious Red Nose characters. The superb car - one of only three currently in the UK at the moment - was described by Autocar as being able to "summon a fat storm of torque" that has it "spearing forward with the assured, unruffled authority of a global powerbroker"
Totally Dynamic had to handle the mission because the wrap was much more complicated this year than in previous years in terms of the prominence of the graphics and the skill required in the positioning and application.
Working hand in glove with innovative display and graphics company 3M, who provided the material, Scott's team were happy to donate their skills, time and effort to a great charity which raises millions each time for the worthiest of causes.
Once Scott's team of experts had applied the seamless chrome car wrap, they covered the Range Rover with dozens of strategically placed red noses, which make the car really stand out - particularly the huge snarling nose which covers the bonnet, grille and bumper.
Scott said, "There were three main incentives to take on this challenging project - Theo Paphitis is a great guy who will always help people out; Comic Relief is one of the country's most effective charities; and 3M offer some of the best vehicle wrapping products available.
"Given these factors, it was the least the boys and I could do to throw our weight behind this great Comic Relief effort and do the best job in our power to make a terrific car look even more eye-catching.
"The red noses are evolving into real characters in their own right and it was great fun - although pretty hard work - to get them all into position on time. I'm sure they put a smile on Theo's face too."