Give us your strangest vinyl wrapping requests and we will do our very best to service your unique requirements. Don't believe us? Then take a look at our 'oddball gallery' below, featuring some of the oddest things we've been asked to wrap.
As with all our professional vehicle wraps, we're pretty proud of the creative, stand-out designs we've delivered.
From Grand Pianos to fridge freezers, Surfboards to Sculptures our UK wrapping wizards love to accept your vinyl wrapping challenges, so please get in touch.
No request too big, small or brilliantly bizarre!
Proud homeowner's sparkly pink fridges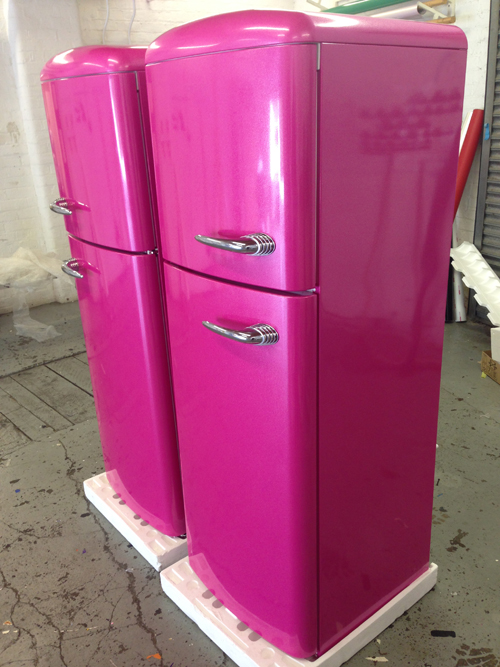 They say the kitchen is the heart of every home. So when a customer was busy renovating, she came to Totally Dynamic to achieve the perfect finishing touch for her pink and black kitchen. On her wish-list were two sparkly, bright pink fridge freezers. Not available to order from the kitchen manufacturer, our customer wasn't content to settle for anything less. So brought them to us for vinyl wrapping and is now the proud owner of two very pink, very unique, kitchen appliances.
Engine base wrapped overnight before jetting to Japan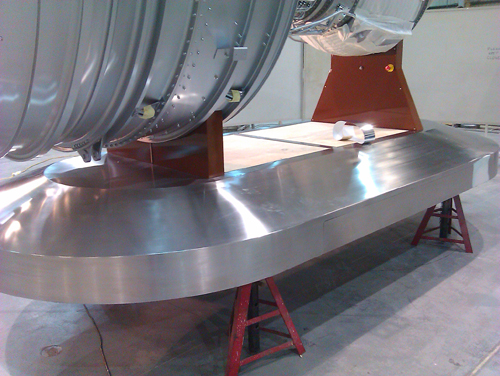 This full vinyl wrap of a jet engine base was delivered by one of our fantastic teams. Transforming it to a stunning brushed aluminium finish, the team worked around the clock to ensure our client's aeronautical engine base was ready for shipping to Japan the very next morning. Nothing like flying by the seat of your pants hey?
Electric guitar gets marble makeover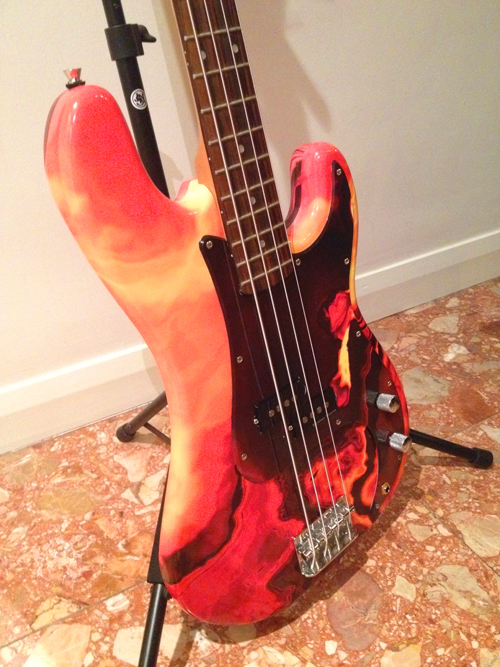 Proving that vinyl wrapping can create a unique personal gift, this much loved electric guitar was fully vinyl wrapped by us as a retirement present for this customer. A keen guitarist in a band, our customer was thrilled with the marble wrap finish – mimicking the look of an iconic Stratocaster.
An Olympic wrap for rock act Muse
The London 2012 Olympics – an occasion etched in all our memories! Not least because our London centres were busy wrapping various vehicles for the closing ceremony. But in addition to tractors and cars we also teamed up with none other than rock stars, Muse. Playing at the closing ceremony, the band wanted their piano to look the star of the show as the world tuned in to see their gig. So we took on the task of vinyl wrapping it in a silver chrome finish. Two more pianos were wrapped for the band's subsequent tour, and we hear one has ended up in a band member's very own home!
Surfing up a different kind of exhibition stand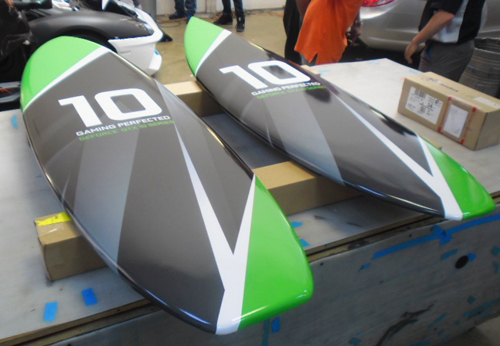 Teaming up with software company, Nvidia, we vinyl wrapped two surfboards to help launch the company's new whizzy software (free-roaming surfboard technology – clever stuff!). Designing the wrap with the company's branding, the boards have been used at events and just go to show that exhibition stands don't need to be plain sailing. With a little imagination, any stand can take on an attention-grabbing dimension with the endless possibilities of vinyl wrapping.
Man's best friend wrapped in chrome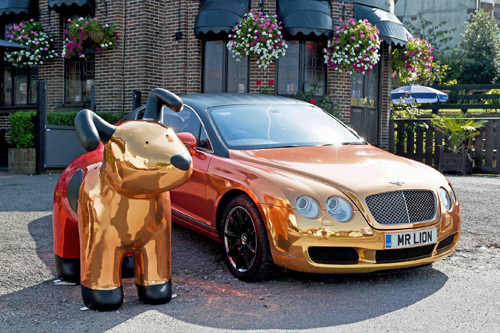 And finally … following on from the successful chrome vinyl wrap we carried out on Chromilla the Go-Go Gorilla, we were charged with wrapping another sculpture trail artwork piece – in this case - a Snowdog. This super smart canine was wrapped in a graduated chrome finish to match the owners' Bentley.
Our long-standing customer and Brighton based business mogul, Dave Day, was generously supporting Brighton's Snowdog sculpture trail, raising money for Martlet's Hospice. And wanted to achieve the same stunning, chrome-tastic finish on his Snowdog sculpture to complement his favourite car. Totally Dynamic's chrome vinyl wrapping specialists were happy to oblige, and don't they look a stunning pair?!
Got something a bit bizarre that needs wrapping in a hurry?
Then set a new challenge for the Totally Dynamic team. Call us on 0800 046 9970, or email info@totally-dynamic.co.uk