Vehicle wrapping is taking the car industry by storm. Not only are people wrapping their cars but manufacturers are now doing it too.
Vehicle wrapping offers an affordable way to change the colour of your car and offers people the chance to update the look of their car to the most fashionable colours without having to have the car re-sprayed.
Vehicle wrapping has become so popular some manufacturers are now selling cars wrapped as special editions.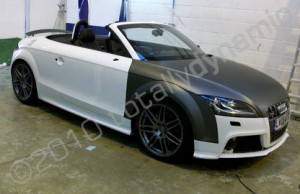 The latest edition of the Ford Focus RS500 comes wrapped in matt black. Being the end of production is being limited to 500 across Europe.
Mercedes have recently launched the DR 520 which is based on the C 63 AMG, Again this is a limited edition – in this case UK only and only 20 cars and comes in matt black or matt white.
Although the new Fiat 500 Blackjack is matt black, its not wrapped. However, if anyone would like a look alike theres no reason why you couldn't wrap your current Fiat 500.
Nissan also wrapped over 100 Micras in a Union Jack flag design as of a major campaign in 2009. These were then sold on and can are often seen driving around.
So, what is a vehicle wrap?
By applying large panels of to your car you can change its colour to create a totally new and refreshed look. The completely covers the paintwork, protecting it from stone chips and minor abrasions caused through general wear and tear. If any section is repaired or replaced due to accident damage, they can always be individually re-wrapped at short notice.
What colours and designs are there?
There are many effects and colours, ranging from the normal colours to the more extreme and eye catching. Carbon fibre, matt black and chrome the choice is yours….
Fancy a new colour? visit our website Colourmycar