Van wraps are a great alternative to individual graphics for your commercial vehicle. There are a number of benefits to choosing van wraps over other sorts of graphics.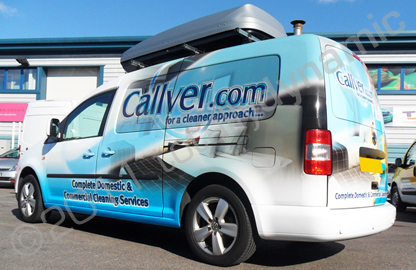 Van wraps are panels that protect the entirety of your vehicle. This means you're less likely to get scratches and abrasions on the paintwork. It's easy to replace the panels once your van wrap has been completed. This means that if the van wrap gets damaged, the van wrap panel can be replaced quickly and easily. Because the van's paintwork is protected by the van wrap panels, it can increase the value of the vehicle.
Wraps are a good choice for an updated image, as well as protecting the vehicle and stopping it depreciate so quickly.
You have a lot of options when it comes to the types of van wraps on offer. There are a number of colours and finishes of van wraps to choose from, as well as your business' lettering. If you want a icularly striking look then you could opt for a chrome or matte van wrap.
If you choose van wraps that really stand out then advertising your business on the move is going to be much easier. You'll stand out amongst the crowd and potential customers will also stop to pay attention to your eye-catching van wrap.
Van wraps vary in price depending on the side of your van and the type of van wrap graphics you want. Ask for a no obligation quote to get an idea of the price and how long it will take for your choice of van wrap.
The time it takes to complete one of these van wraps also depends on the sort you are after and the type of van you have. It could take anything from a couple of days to a few weeks to finish off your van wrap.
Van wraps for commercial vehicles are a good choice for any business looking to promote themselves further. Van wraps on commercial vehicles give potential customers the chance to be drawn to your brand image. It's also means your contact details will be in plain sight if they are interested.
Branding is very important on vehicles, especially if you travel a lot. Van wraps are a perfect choice for any business as you get the added benefit of the protection of your vehicle's bodywork as well as advertising your business on the move.