To beat the winter blues, our thoughts are turning to summer holidays, fun family days out and lazy afternoons spent soaking up the sunshine by the coast, or at food, drink and music festivals.
And it's not just us at Totally Dynamic. Throughout the UK, holiday-booking fever has been mounting, with tourism businesses reporting bumper bookings this January, with a real trend towards staycations. In fact, according to recent research, 35% of families are more likely to book a British break this year.
So what's behind the holiday-at-home craze? Well, with a weakened pound, foreign holidays have become more expensive. And with safety concerns around certain overseas destinations, people are increasingly opting to holiday at home this year. Great news for the many spin-off businesses such as tourist attractions, restaurants, cafes and festivals, who, with the right marketing, are all set to benefit.
But it's not just UK visitors who will be holidaying and spending more on British soil. Inbound tourism is expected to soar too. VisitBritain expects around 3.8 million visits from overseas travellers to the UK this year; up 4% on 2016. And it's anticipated they're likely to spend a whopping £24.1 billion; an increase of 8% - a serious chunk of additional money coming into the UK economy.
That's an awful lot of people, and an awful lot of pounds your business could be benefiting from.
And that's where our professional vehicle wrapping service can really make a difference.
If you're considering a creative vehicle wrap for the spring and summer months, to boost awareness for your tourism attraction, hotel, restaurant or event, then you're already moving in the right direction. But don't put it off until the warmer weather arrives. Act now, get your vehicles wrapped in advance, and you'll put your brand one step ahead of the competition.
Having your fresh, vibrant, bright vehicles out on the road now means your event, hotel, festival or attraction, will be top of mind when people are busy making plans for what to see and do this summer.
The Totally Dynamic team has worked with lots of great tourism, food, catering and retail brands to support their summertime campaigns, with full body vehicle wraps. We can work with all models, shapes and sizes including ice cream vans, catering trailers, giant teacups, monorails, jeeps, smart cars and campervans, to name just a few. Totally Dynamic has got all your vehicle vinyl wrap needs covered.
Below are five of our favourites…
1) Alton Towers Monorails
All 8 monorail trains were given a full makeover, each with a different and eye-catching design created by leisure marketing supremos, Sarner - this one just appeals to our sweet tooth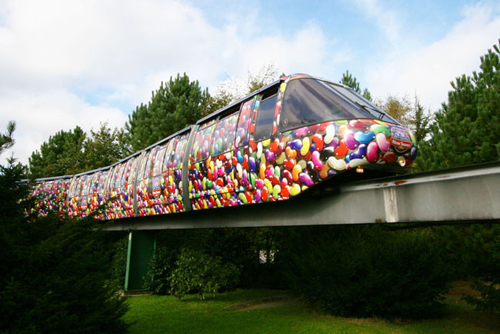 2) Airstream Trailer for Claire's Accessories
This Airstream trailer was transformed by our super talented London team and was seen at various events throughout the summer

3) Catering Trailer - Jimmy's Farm
The increasingly popular 'Jimmy's Farm' wanted us to create a unique look for their upmarket burger van. As well as going on tour throughout the country at various foodie events, the Jimmy's Farm team also host their own festival combining the best of food and music - in 2017 the likes of K T Tunstall, Scouting for Girls, Matt Cardle & Mama's Gun will be performing on the main stage, with top chefs Rachel Green, Gill Mellor & DJ BBQ doing their thing in the Cookshack. There is even an appearance from Mr Bloom to keep the kiddies happy. Visit www.jimmysfestival.co.uk for ticket details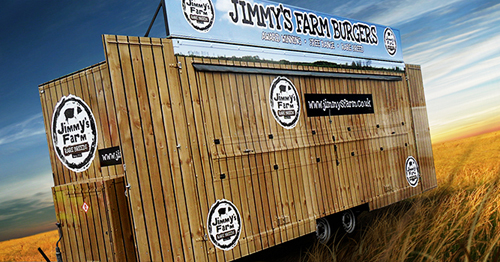 4) Thorpe Park
Over the years the Totally Dynamic team has given a makeover to several of the rides at Thorpe Park, but our favourite is still the Tetley's 'Storm in a Teacup' ride which we have refreshed a couple of times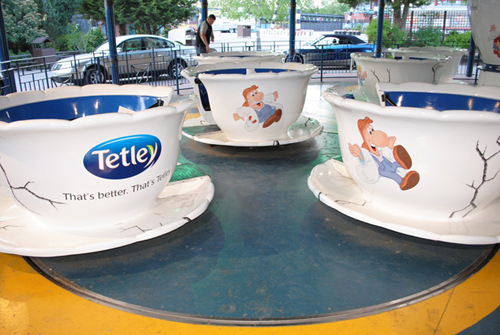 5) Pensthorpe Explorer
The Pensthorpe Nature Reserve in Norfolk - made famous when it hosted the Springwatch team - is a real gem in the North Norfolk crown. One of the many activities on offer to serious birdwatchers and families alike are the daily tours around the huge nature reserve. The team at Pensthorpe wanted us to create a design that helped blend the Land Rover & trailer into the beautiful environment and this is what we came up with.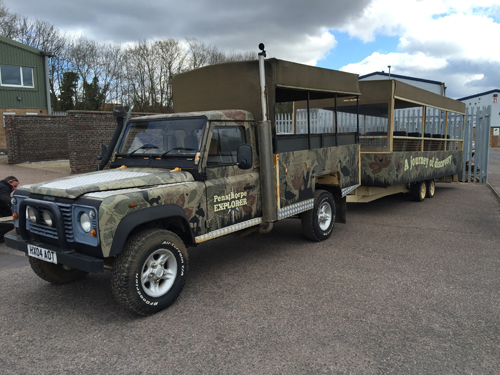 So if you need a one-off vehicle wrap to increase brand awareness for your business, or some creative inspiration for a summertime campaign, please give us a call on 0800 046 9970 or use our contact form here. Whether it's one car, a fleet of vans or 100 open-top buses, our team are on hand to devise a stand-out design to get your business noticed, now and right through to those long summer days.