A Jaguar Sovereign, wrapped to resemble a Battle of Britain-winning Spitfire fighter aircraft by the country's best vehicle transformation company Totally Dynamic, is set to raise funds for the charity Help for Heroes.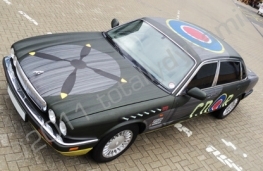 The vehicle, owned by the Kent-based £250 Club and which is used to raise funds for good causes, will be offered to Help for Heroes for use in its promotional work or, if it so chooses, to be auctioned to the highest bidder.
Clive Burfoot, £250 Club organiser, said: "Earlier this year we had a great rally through Snowdonia in Wales on bikes, mopeds and cars but our beautifully-wrapped Jaguar was the talking point. Everywhere we went people simply couldn't get enough of our racing 'Spitfire'. The vehicle was also seen in July at the Help for Heroes stand at the War and Peach Show at the Paddock Wood Hop Farm."
Designer, Adam Limrick and his fellow wrapping experts at Totally Dynamic's South London centre at Redhill, Surrey, were called in by the £250 Club to transform a classic British car into a classic British battle-winner and had a great time doing so.
Adam said: "We're used to wrapping classic and modern prestige cars in all manner of colours and producing eye-catching mobile ads for leading brands such as O2 and Nokia, but this is the first time we've delved into wartime history to create a truly unique wrap.
"And we'll be especially proud if our handiwork can raise much-deserved funds for Help for Heroes", he said.