The electric blue Aston Martin DB9 could be in a wind tunnel, with feathery white vapour streams streaking sinuously over its sleek and sexy body. As an image - it's a work of art!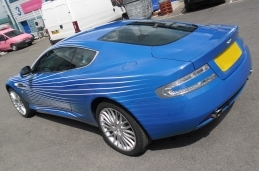 The azure design was brought to life by Scott Coleman and his team of artisans at the Totally Dynamic North London centre for Aston Martin, the aristcrat of sports cars, a company which has been hand-crafting beautiful vehicles since 1913.
Aston Martin's rich and evocative history - culminating in treasures such as the elegant yet brutal V12 Zagato - has garnered it a million followers on Facebook and, as a tribute to it's fans loyalty and enthusiasm, it decided to stage a competition via Facebook, to design a wrap for a DB9.
The entries flowed in, from professional and amateur designers alike, with ideas ranging from the outrageous to the inspired. Eventually they were whittled down to a shortlist of six before the judges settled on the flowing blue and white lines of the winning design, called 'Aero'.
On paper, or more accurately, the computer screen, it looks stunning. The blue, which Totally Dynamic matched to Facebook's signature blue, is streaked with linear flow, shimmering on the body and fading away to the car's rear.
However, for Scott and his team, turning this 2-d design into a working 3-d reality was an extreme challenge - but it was a challenge they were ready to rise to.
Scott said, "Aston delivered the brand new DB9 to us and wefirst had to wrap the most curvy parts of the car in a printed grid system in order to work out where the lines would run on a 3-d object.
"Aston wanted the actual car to look as close to the winning design as possible, so our designers had to play around quite a bit to get the lines to follow the bodywork of the car before we could even consider embarking onthe main wrap. We had to tweak it many times before we had it pitch perfect."
It was perfect enough for the crowd of ecstatic Aston MartinFacebook followers in front of whom the 'Aero DB9' was unveiled on 26th June.
A spokesperson for Aston Martin said: "The wrap of the Aston Martin DB9 Aero design went down really well with our Facebook followers, who now number more than a million.
"The intense interest in the car among people who attended the launch ceremony and many more of our followers have commented favourably online."
Scott concluded; "Aston Martin drivers are, by nature, discerning people who will only settle for the best. Wrapping can transform the already beautiful car into something unique and personal and matched to the style and preference of theowner."