Following England has always been a bit of a rollercoaster ride but football fans are flocking to leap aboard the St George's Cross bedecked Stealth rollercoaster at Thorpe Park which has been given a patriotic makeover by our South London centre.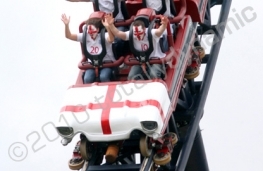 Re-branded the 'Goal-Ercoaster', the 80 mph ThorpePark attraction is one of Europe's fastest rides and now carries England's fastest flag.
Acting on behalf of Hollyer Projects, we are no stranger to leisure park projects, having previously wrapped the 72 monorail cars at AltonTowers.
Richard Hollyer, MD of Hollyer Projects, said: "The technicians from Totally Dynamic's south London centre in Redhill did the great professional job for which they are renowned, turning up early to wrap two of Stealth's leading cars in red and white.
It was a beautiful piece of work and was completed in plenty of time to get the 'Goal-Ercoaster' up and running for its first ride of the day at 10.30."
Scott Coleman, owner of our South London centre said: "Like lots of the work we do, this job was about creating a fresh and exciting new profile for a much-loved vehicle. And the customers just love it."