Our South London centre threw open its doors this morning in order to showcase some of our latest products and innovations.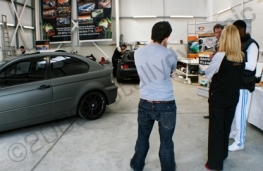 New and existing customers were invited along to join us for a coffee and Danish, whilst being given the opportunity to watch some of our technicians in action.
Our guests were also able to see first-hand the most up to date options available in our extensive range.
Centre owner, Scott Coleman said, "We were really pleased by how many people took the time out of their busy schedules to come and see us and were pleasantly surprised by the amount of extra work we have now generated."
The open day was the first of many planned throughout our UK centres – watch this space for details of where the next one will be.