For the 6th year running golf manufacturing giants, Titleist, have entrusted their mighty European Tour Support Vehicle to Totally Dynamic.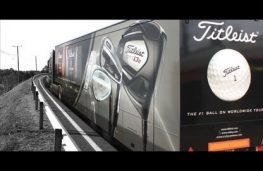 This time it was the turn of our Norfolk centre to undertake the task of stripping and then re-wrapping this giant of a vehicle.
The original design was created in the US for a much smaller vehicle, so our designers at Head Office were charged with the task of making the design work on a much larger (and longer) scale.
The print was then produced using our environmentally friendly HP latex printer and the wrap was then carried out in good time for the vehicle to go off for it's pre-tour MOT.
David Sweales, Managing Director of Totally Dynamic Norfolk said, "as a keen golfer it was a real pleasure to work on this vehicle. It was an enormous task, but one which myself and the team thoroughly enjoyed"
The tour vehicle will be on display at all of the major golfing events in Europe during 2011, including the Open in July, which this year is being held at the Royal St George's course in Kent.