Two of the most blistering racing cars on the circuit, Go Green Motorsport's Honda NSX and a Lotus Motorsport Elise, both entirely re-built and customised by top racing car engineers, John Danby Racing, have been given a stunning new look by Totally Dynamic's Norfolk centre.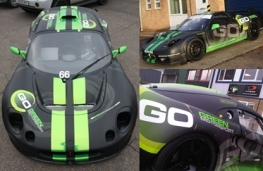 The cars, now wrapped in printed matt black plus Totally Dynamic's exclusive printed chrome, will be in action shortly when the Lotus Elise, originally designed by John Danby and his team when he worked at Lotus, takes part in Lotus Cup races throughout the UK and Europe. Similarly, the Honda NSX, which was built in 1994 and is the only such model racing in the UK, competes in the Britcar Championship later this year.
Nicola Danby of Colchester-based John Danby Racing, said: "On behalf of Go Green Motorsport we asked Totally Dynamic to design a 'look' for these two cars which reflected its green credentials and which every motor racing fan would remember.
"We have been delighted by what Totally Dynamic have designed and produced. This is the first time we have worked with them but we have lots of customers' cars which would look great with a vinyl makeover so I'm quite sure it won't be the last", she said.
David Sweales, centre owner of Totally Dynamic Norfolk, who carried out this project, said: "Our speciality lies in giving all sorts of vehicles the 'wow' factor by designing and fitting vinyl wraps that grab everyone's attention.
"The challenge was to make sure the Lotus Motorsport Elise and the Honda NSX stand out from the crowd and I think you'll agree we've more than achieved that", he said.