Our North London centre was recently approached by Terex, the giant international provider of hi-tech heavy plant equipment, to help them in their fundraising efforts for Breast Cancer research.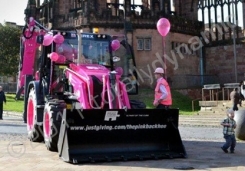 Scott Coleman's Totally Dynamic team agreed to help fund the wrapping of a Backhoe Digger which Terex positioned outside an event in support of 'Wear it Pink' day.
The wrap had to be carried out at Terex's factory in Coventry, so our fitters put on their hard hats and steel toe capped boots and set to work.
Every part of the digger that could be wrapped was covered in the specially printed bright pink vinyl - including the wheels!
At a time when money is tight, this unusual event raised £2,156 for the Breast Cancer Research Campaign.