Totally Dynamic North & South London have been busy creating fantastically branded tour vehicles for Samsung to accompany the Olympic Torch on its Relay Route around the UK.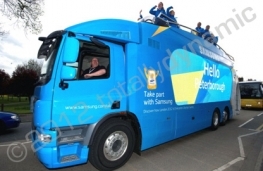 Scott Coleman and his intrepid team of wrap technicians from both his North & South London centres, were charged with the task of transforming the look of all manner of vehicles, ranging from a massive custom converted truck (with it's very own built-in external plasma screen) to vans, quad bikes and even motorcycle helmets.
The Samsung designs were created by The One Agency, who commissioned Totally Dynamic to carry out this prestigious project for them.
It is estimated that the Olympic Flame, which starts out on it's epic journey around the UK today in Lands End, will come within 10 miles of 95% of the country's total population.
The Torch will be carried through a staggering 1,019 communities on its 70 day journey, culminating in its arrival at the Olympic Stadium where the final torchbearer will use it to light the Olympic Cauldron, signifying the start of the 2012 Games.
For details of the Olympic Torch Relay Route, visit www.london2012.com