Totally Dynamic North London were recently called upon by RWD Magazine to help them assist adidas in promoting the UK's Biggest Celebrity Basketball Event; adiSlam.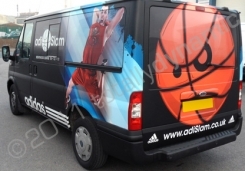 adidas needed to have a wrap designed and applied to a Ford Transit minibus, which was then used in a number of viral ads on You Tube.
RWD Magazine has worked with both adidas and Totally Dynamic before when adidas needed four Mercedes ML's wrapped to help promote their 2012 Olympic Legacy Programme.
Due to the tight deadline on the adiSlam project, the van was taken to our South London centre where Scott's team completed the wrap a day early.