There is only one sure thing in the noble art of punting – that bookies know a winner when they spot one.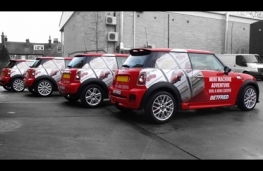 That's why Betfred, the world's largest owner-operated bookmaker, picked out Totally Dynamic, Britain's most go-ahead car wrapping specialist, when it wanted to be first past the post with an exciting new promotional campaign.
The £4 billion turnover company, which is the fourth biggest bookmaker in the UK, turned to Totally Dynamic's Leeds/Bradford & Manchester centres to work its winning magic on a series of BMW MINI's by transforming them into Betfred livery.
The first cars were designed to publicise a Betfred Mini giveaway promotion, which attracted huge interest across the UK. The others were fully wrapped in Betfred logo and colours to be used as runabouts by the company's senior staff.
Now Totally Dynamic Leeds/Bradford & Manchester are hoping to go through the card by winning the contract for another 16 Minis to take the Betfred story up and downBritain.
Jon Sanders, joint owner of the Totally Dynamic Manchester centre said: "Totally Dynamic is now the first port of call for people who know how to stand out from the crowd. Our combination of first class quality, professional workmanship and realistic pricing mean that customers just keep coming. We'll bet on that."