Totally Dynamic, Britain's most go-ahead car wrapping specialist, has just completed a record breaking transformation project which is absolutely guaranteed to dazzle people across Yorkshire, Derbyshire, Nottinghamshire Lincolnshire and Humberside.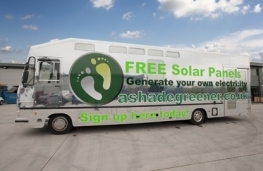 Totally Dynamic's Leeds/Bradford centre has created a stunning spectacle by using 360 square metres of shimmering mirrored chrome foil to wrap two huge former mobile library vans, which will now go on the road in a groundbreaking green energy initiative.
Ordered by A Shade Greener, a Barnsley-based renewable electricity generator, the head-turning vehicles have embarked on a tour of the North, which started at the Royal Majestic Hotel in Harrogate on March 31.
John Wade, director at A Shade Greener, said: "We needed vehicles which were really eye-catching to inform people about our fantastic free solar panel systems and Totally Dynamic have come up with a solution which has exceeded all our expectations."
Totally Dynamic franchise owner Lee White and his team of 13 skilled technicians pulled out all the stops to turn the old former library vehicles, which A Shade Greener acquired from Cambridgeshire County Council, into absolute stunners.
They helped the company with the vital preparation work after they were let down by another party, and worked non-stop to meticulously apply 300 metres of delicate 1200m-wide chrome foil over the entire surface of the trucks, including the side windows.
John Wade explained that A Shade Greener is utilising the Government initiated FIT Scheme, to install free solar panel systems onto domestic properties in parts of Yorkshire, Derbyshire, Nottinghamshire, Lincolnshire and Humberside. The scheme is aimed at people who want to go greener, but possibly can't afford it. John Wade explained that that is where Totally Dynamic's stunning new chrome library trucks come in.
He said: "A Shade Greener is set up so that people can apply online to have our solar panels fitted. But we have to recognise that some parts of our target market do not necessarily have access to the internet – so the vans allow us to take the internet to them.
"Because they were library vehicles, they are fitted out internally with power points, lighting, internet points, seating and shelving. People who want to take advantage of this fantastic offer, but aren't hooked up to the web at home, can use our terminals and we will talk them through the easy step-by-step process."
For Lee White, the mirrored trucks were a different challenge to the work he has carried out recently on performance and prestige cars, which amongst many others include a Rolls Royce, a BMW 7 Series, an Audi RS4, a top-spec Range Rover and a new £200,000 Ferrari F458 Italia.
Lee said: "Totally Dynamic is the first company in the UK to wrap two such large vehicle's in chrome. It is certainly a record, and it is great that we can contribute to such a worthwhile renewable energy project. We are looking forward to seeing A Shade Greener's vehicles catching people's eyes all over the local area."