Totally Dynamic, the UK's leading vehicle wrapping company is delighted to introduce their own exclusive range of wrap cleaning products.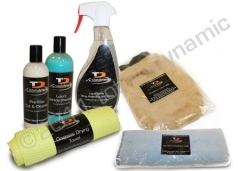 Always at the forefront of wrap technology, Totally Dynamic has been working hard to develop a range of products suitable for cleaning and maintaining their high-quality wraps.
Currently the product range consists of:
Luxury Vehicle Shampoo
Pre-Wax Cut & Cleanse
Liquid Spray Wrap Protection & Polish
One-pass Drying Towel
Microfibre Polishing Cloth
Sheepskin Wash Mitt
Director of Marketing, Jenny Rope said, "We have always prided ourselves on the quality and delivery of our wrap systems but felt it was time to expand our aftersales service.
We have been working very closely with our own dedicated suppliers to produce a range of products that complement all of our wrap systems and will be continuing to roll-out new products over the next few months.
The introduction of our own cleaning range helps to reinforce our commitment to quality and our desire to ensure that each and every Totally Dynamic wrap stays looking good long after our customers have driven away".
The new range of wrap cleaning products are now on-sale in all nine of their UK centres.