2012 marks the fifth anniversary of Totally Dynamic's association with the Dixon Yamaha World Championship Moto X Team, who are racing this year under principal sponsorship from Monster Energy and Bike It.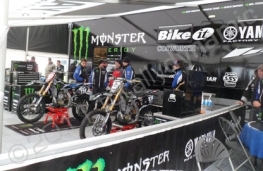 For the past 5 years, various Totally Dynamic centres have been involved in wrapping the huge tour vehicle for the team, which transforms into a workshop/hospitality unit at all of the Championship rounds.
This year Totally Dynamic's Southampton centre was responsible for the transformation.
Adrian Rope, Managing Director of Totally Dynamic was invited by the Monster Energy Bike It Squad to watch them in action at the 3rd round of the British Championships, held on a wet and muddy Sunday bank holiday at the old-school styled track at Lyng in Norfolk.
The team were delighted when their riders, Mel Pocock and Shaun Simpson came away with a 1-2 podium finish respectively.
Steve Dixon, Team Owner/Manager said, "The guys at Totally Dynamic have consistently turned out a high quality and professional service for us over the years - and each centre we have worked with has been equally as helpful and accommodating."