There are more than 13,000 iconic yellow cabs whizzing around the mean streets of New York City, but they now have some streetsmart competition in the leafy lanes of London, thanks to Totally Dynamic's North London centre.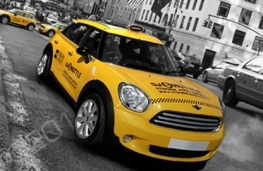 Scott Coleman and his wrapping experts at Totally Dynamic in Enfield have created some Big Apple attitude for a fleet of new MINI Countryman vehicles owned by the top-class London based BMW and MINI group, Stephen James.
The hot hatchbacks have been decked out in the bright yellow livery with black chequers which is instantly recognisable to movie fans all over the world as a symbol of the pace, pzazz and sheer chutzpah of the City that Never Sleeps.
Stephen James turned to Totally Dynamic when it wanted a really special touch for its premium A to B Service, which whisks customers who have brought their MINIs or BMWs in for a service at one of their outlets to their nearest Tube or train station so that they can carry on with their day.
Scott said: "The Stephen James Group is into customer service every bit as much as we at Totally Dynamic are. They have a Lifestyle Cafe where clients can pass the time while their MINI or BMW gets a bit of TLC from their trained technicians.
"They also know that their customers have busy lives, so they came up with the idea of the free A to B taxi service. It means that if clients have, for instance, another meeting immediately after putting their car in for a service, the Stephen James taxi will help them get to it."
Initially, the dealership considered making the MINIs look like London black cabs, but Scott and his 10-strong team thought that they could go one better, and came up with the NYC yellow cab idea.
They not only did all the design work themselves, but they brought the transformation of the MINIs in within the week, which is working at Manhattan speed. They even topped the project off with illuminated taxi signs to sit on the roof.
Ben Saul, Group Marketing Manager at Stephen James, said: "The Totally Dynamic team are just like their name suggests – absolutely up for taking a good idea and running with it. It was a very impressive creative performance.
"It's clear that they are totally committed to providing the best possible customer service, backed by an unusually high quality of workmanship and pride in the job. We have had a fantastic response from our customers who have used the service. They love the look of our shuttles and the service we now offer at our dealerships in Enfield, Blackheath, Bromley and Ruxley.