So you've purchased a new, or nearly new, van for your business. It's essential for getting you from A to B and for enabling you to deliver your products or services efficiently. But it's also a huge cost to your business so it needs to work as hard as possible.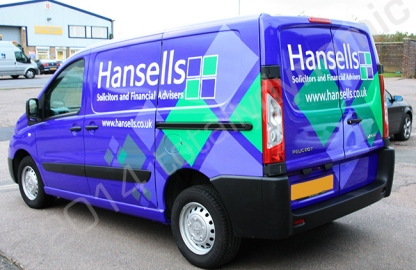 A van wrap is an excellent way to get extra value from your business vehicle. Instead of only being a necessary tool, by applying attention grabbing graphics your van can also become a mobile advertisement for your brand. Every mile you drive is another opportunity for a potential customer to read about your brand and, hope, be inspired to find out more.
In case you're not sure what we mean by a van wrap, put simply it's a way of applying eye-catching images, graphics or text to the whole of a vehicle. We print your design on specialist self-adhesive, van wrap , and then apply it to the paintwork of your van; effectively creating a second skin and a completely new look.
There are lots of things to think about when you're planning a van wrap but we've picked out our top three things to consider:
1. What do you want to say about your brand?
Firstly, think care about what you want your van wrap to say about your business. If you already have a distinctive identity, or 'look' for your brand then your van wrap is likely to follow your established style. However if you are starting from scratch with marketing your business, you can treat your van wrap as a blank canvas.
Ask yourself how you want your business to be perceived by potential customers. For example: · Is it important that people know you have traditional values? · Do you think that more men than women will be interested in your service · What is the typical age group of your customers? · Are you the only company doing what you do in your area? · Are you are family business? · What contact information needs to be included?
The answers to all of these questions, and many more, will help you decide what style of van wrap you are looking for. And this leads us to our next point…
2. Get your design right
Have you ever seen a van where the company's phone number is obscured by the edge of a door, or where the business name disappears when the door is open?
Really great van wraps work with the shape of the vehicle; taking into account the positioning of doors, windows, lights and even the contours of the bodywork. If you supply us with a design, our experienced design and artwork team will ensure that all the key elements are positioned for maximum results.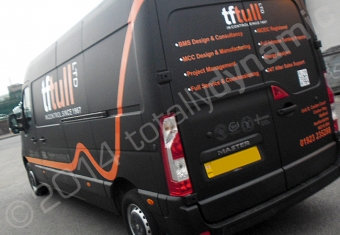 3. Don't compromise on quality
Many traditional sign-writing companies are now offering full or van wraps. Sadly, few of them are properly trained and many do not invest in the best possible van wrap materials. Using cheap s and applying them without proper care and attention can result in a van wrap which looks messy, is full of air bubbles and is unlikely to look good for any length of time.
A professional van wrap, properly applied, should last for between three and five years. If your van's paintwork is in good condition when the wrap is put on, it will be in the same condition when the wrap is removed.
If you would like any further information about van wraps, please call 0870 046 9970 or email info@totally-dynamic.co.uk.