Our South London centre has recently been charged with a slightly unusual task by Brighton business magnate Dave Day. Dave is a customer of our Redhill centre and when he told them he was keen to support the 'Snowdogs by the Sea' sculpture/art trail and needed our help our guys were intrigued.
The 'Snowdogs by the Sea' sculpture trail features 45 giant Snowdog sculptures, inspired by the much loved animated short film, The Snowman™ and The Snowdog.
Each of the 45 Snowdogs has been individually decorated by artists and sponsored by generous local businesses and are on show from Saturday 24th September to 27th November across Brighton & Hove. At the end of the exhibition each Snowdog will be auctioned in order to raise money for Martlets Hospice.
Martlets provides hospice care to the terminally ill in and around the Brighton area. During the last 30 years the organisation has cared for and supported 25,000 people in the Brighton and Hove area and provides an essential service to the local communities. But of course this sort of care comes at a cost and so it is hoped that at the end of the exhibition the Snowdogs will help raise lots and lots of money for this extremely worthwhile cause.
Big hearted Dave, who operates a number of bars and clubs in the Brighton area was keen to support this unique sculpture trail and charged our wrap artists in Redhill to help him create an eye-catching creation. A couple of years ago Dave had asked our Redhill centre to wrap his beautiful Bentley in a printed graduated chrome vinyl wrap and he wanted his Snowdog to be wrapped in exactly the same material. So our super talented chrome vinyl specialists in South London set about transforming a plain white sculpture into a mirrored masterpiece. And this was the result.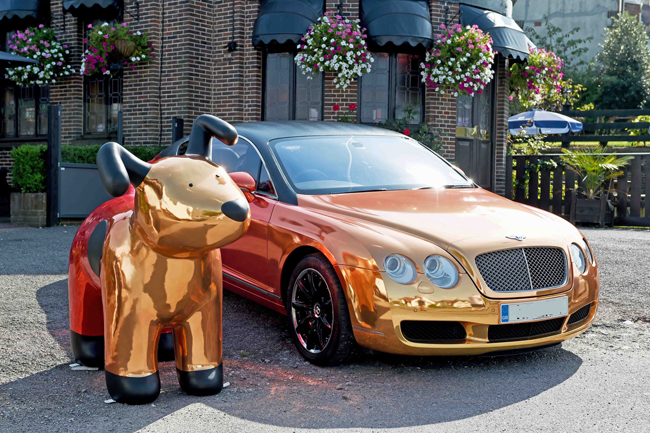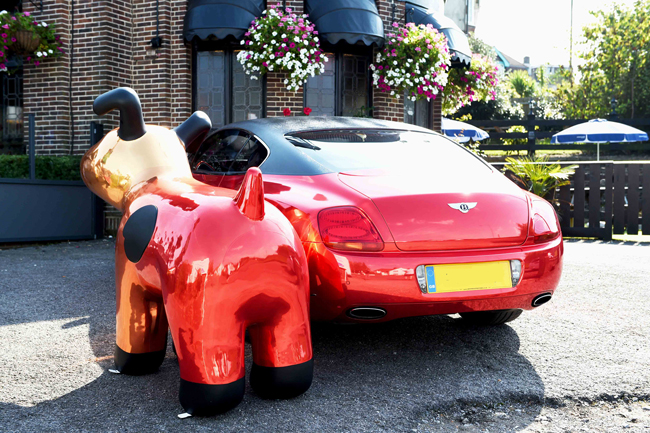 Dave has named his Snowdog after himself and you can see 'Dave the Dog' in all his glory in Hove.
Visit www.snowdogsbythesea.co.uk for more information