We think you'll agree that if you operate a van as of your business it makes absolute sense to have it branded with van graphics. After all, your vehicle is one of the best marketing tools you're ever going to have and you're already paying for it! Every mile you drive is another opportunity for more people to become aware of your business and the services or products you provide.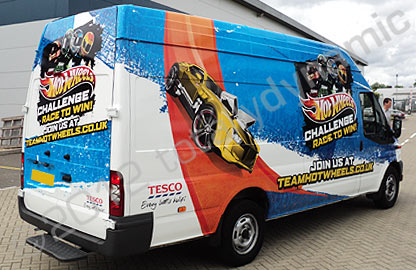 Years ago, van graphics were painted by hand by a skilled sign-writer. As sign-making technology has developed we have seen van graphics moving on so that they are now created by applying lettering to the paintwork of the vehicle. Bespoke printed panels and more complicated cut out graphics can also be added to create more impact.
But a van wrap takes the branding of your vehicle to a whole new level. State of the art vehicle wrapping technology allows us to cover the entire surface of a vehicle's paintwork with specially designed and printed, self-adhesive . When applied with heat, by trained vehicle wrap technicians, the creates a second skin, completing 'wrapping' the surface of the van with a bespoke design.
Unlike traditional van graphics, a van wrap allows complete creative freedom; there are no restrictions other than your imagination. You can incorporate photographs, illustrations, text and patterns to create a completely unique design which reflects your business and includes a clear and engaging call to action.
Whilst applying limited van graphics can be a cost effective choice for a business on a budget, it's worth remembering that paintwork is affected by UV rays. When you remove lettering from your van, you may notice a shadow effect where the covered areas have not faded along with the rest of the paintwork. This could reduce the resale value of the vehicle or impact on the future look of your van.
A full van wrap is easy to remove and if your paintwork was in good condition when the wrap was applied it will be in the same condition when you take it off. Unlike traditional van graphics, a wrap can even protect your paintwork from stone chips and other minor road damage.
So why not see how a vehicle wrap could improve your van graphics? Give us a call on 0800 046 9970 or email: info@totally-dynamic.co.uk.