Peter Andre approached Totally Dynamic's South London team to wrap his Ferrari California in the super-stealth matt black look and his Porsche Cayenne in stunning gloss white.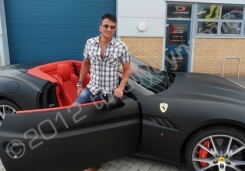 The cars were filmed being wrapped for Peter's hit TV show; Peter Andre: My Life after Peter saw the fantastic job our guys did on his tour manager John's vehicle.
Pete was astounded by our work and even gave wrapping a try himself!