A muddy tribute to Norfolk, created by Ruddy Muddy and commemorating the first ever Norfolk Day, has fetched £250 for a local charity.
Totally Dynamic, one of the UK's leading vehicle wrapping businesses, commissioned artist Ruddy Muddy and his partner Damsel Dragonfly to create a one-off piece of unique muddy art, at this year's Royal Norfolk Show. Painting the piece live in front of show-goers on the Totally Dynamic stand, the artwork depicts George Vancouver from King's Lynn, Cley Windmill and Nelson's Monument in Great Yarmouth.
After the show, Ruddy's tribute to Norfolk was auctioned off on social media. Bidding ended on 27 July as the first Norfolk Day drew to a close, after attracting lots of interest.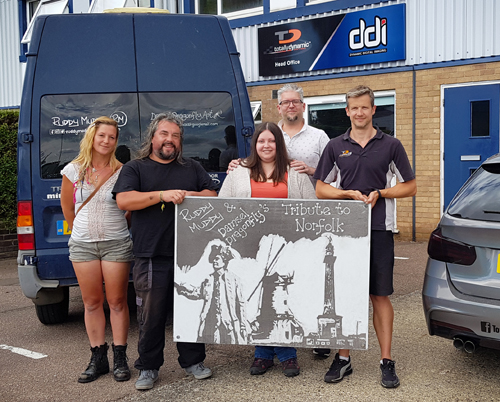 Becki Carpenter from Tasburgh placed the winning bid of £250; money which will now go straight to a small, local charity, Home-Start Norfolk.
Becki says she fell in love with the piece after seeing it on the Norfolk Day Facebook page. With a personal connection to all three places illustrated, she felt compelled to bid.
Becki has just been presented with her new artwork at Totally Dynamic's Norwich centre, and says:
"I just had to bid for the piece; Cley Windmill was our wedding venue, so it's very close to our hearts. And we liken ourselves to George Vancouver, who was an explorer. We moved from Cornwall to Norfolk 12 years ago, settling on Norwich after closing our eyes and randomly picking a place on the map. We packed up, moved here, and instantly fell in love with the city. And we haven't stopped exploring Norfolk since. Nelson's Monument is in Great Yarmouth, and that's where we had our first ever holiday and is still the place we have the most fun, so holds special memories. The entire piece has significance for us, and will be proudly displayed in our hallway as a muddy reminder of all our favourite Norfolk spots."
Jenny Rope from Totally Dynamic, who commissioned the artwork and arranged the auction explains: "It was great fun hosting Ruddy Muddy and Damsel Dragonfly on our stand at the Royal Norfolk Show. Visitors were enthralled by their brilliant talents and very different type of art. We're so pleased their Norfolk Day art has been won by someone so passionate about Norfolk, while raising much-needed money that will directly help children and families supported by Home-Start Norfolk."
Through an amazing network of volunteers, Home-Start Norfolk supports parents, with children aged five and under, where Mum, Dad or both are struggling to cope for a wide range of reasons.
Helen Brown, funding manager from Home-Start Norfolk adds; "Families throughout the county need our support and the money raised by Totally Dynamic will make a real difference. Every penny means we can continue to help families in need, right here in Norfolk."