We don't know about you, but here at Totally Dynamic Towers the fantastic Summer of sport we have all been enjoying has left us feeling a bit wiped out! And that's just from watching it on the TV!
After such a rush of adrenalin, we're looking forward to sitting back with a nice cuppa, and enjoying a show with slightly slower, gentler pace. No doubt our fabulous athletes are too!
So recline that armchair, relax and enjoy the nation's favourite - The Great British Bake Off. It returned for its seventh series on the 24th August and already it is causing quite a stir (geddit?)
The line-up is always an eclectic mix of personalities and this year's no different. Contestants include an aerospace engineer, nurse and a motor biking city worker. And of course; national treasure Merry Berry will be judging them all, and closely inspecting those soggy bottoms.
All the pre-launch Bake Off hype has got us thinking. Not just about lovely lemon drizzle cake and scrumptious scones. But how over the years, our own Totally Dynamic team of professional car wrappers have cooked-up some show stopping creations of their own in the food world.
We're luck to work with some fantastic household food brands, right throughout the UK. Businesses like Asda, Covent Garden Soup Company, Tesco and Jimmy's Farm have chosen us to wrap their vehicles in foodie-inspired designs.
One of our all-time favourites has to be this cake-themed camper van wrap for supermarket chain, Asda.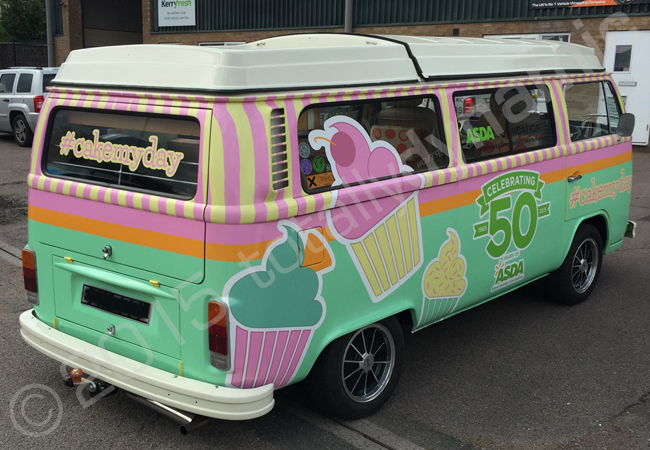 Transforming a classic VW campervan with a full colour vinyl wrap, and changing it from a soft lemon yellow to a retro styled cupcake design, this digital print design really hit the sweet-spot.
Asda's campervan was a key part of a campaign to celebrate 50 years' in business. The marketing team maximised the potential of their van wrap by promoting the hashtag #cakemyday, getting the campaign message out and about on the road, and seen by thousands.
If beer's more your thing than baking, then we've also worked with some fantastic brewery brands.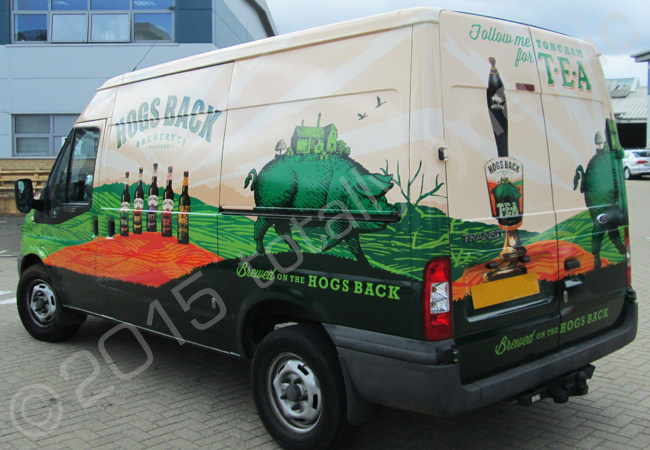 Wrapping this delivery van in a full colour, digitally printed vinyl wrap, there's no mistaking that it's carrying a precious cargo of refreshing real English ale and lager from Hogs Back Brewery.
Or for a healthier alternative, this Mini wrap for the Covent Garden Soup Company brings to life the fresh ingredients in their seasonal soups, with a colourful, vibrant design on the roof.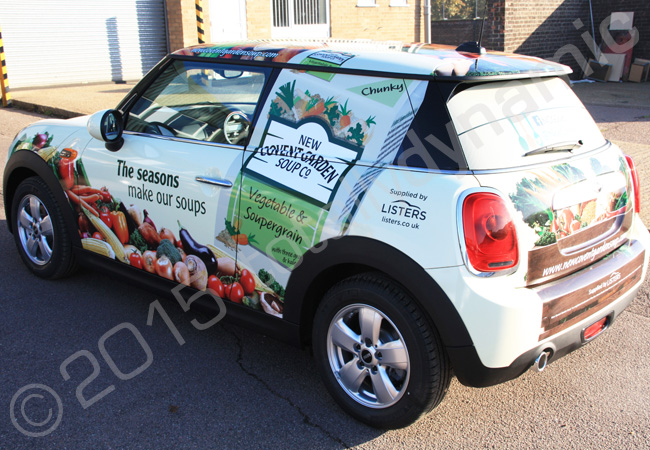 We've also teamed up with Food Unwrapped presenter, Jimmy Doherty, who opted for a rustic, wooden effect for his burger van.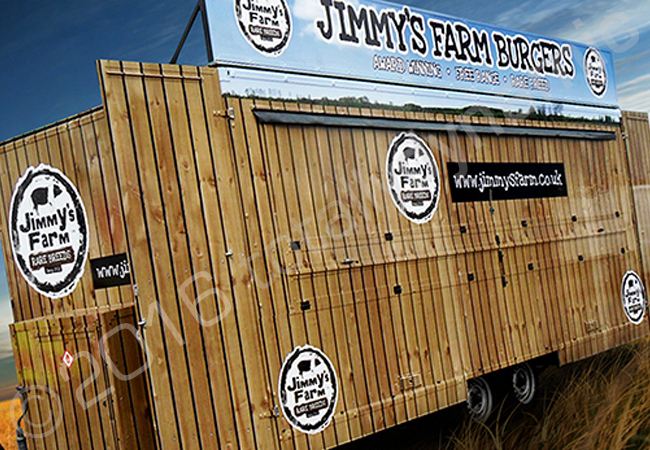 No ordinary burger van, our team achieved a fantastic, full vehicle wrap on this trailer, making sure every inch appeared as if clad in wood. A quirky, beautiful design, reflecting the quality of Jimmy's award-winning, rare breed burgers.
From TV food presenters, to national supermarket chains, health foods to craft beers – our wraps can make your customers mouths water.
So if you're out and about on the road this summer, taking your great bakes, burgers, sweet treats or cold beers to your customers, then consider how a creatively designed, professional vinyl wrap can transform your vehicle into a real showstopper.
Call us today to start chewing it over! (Sorry!)
Now where's that cuppa and slice of Madeira cake gone?