Our wrapping experts pulled out all the stops - including working through the night - to help the candidates impress the multi-millionaire tycoon with their commercial insight and business sense.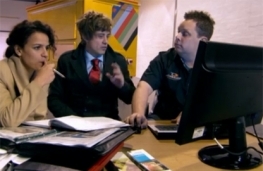 And as Team Sterling celebrated their victory over Team Phoenix on their journey to a possible £250,000 investment and partnership with Lord Sugar, their biggest thanks went to Totally Dynamic's crack team of technicians who gave them the vehicle of their dreams to let them come out top in the task.
Mark Sexton, designer of the wrap for Team Sterling, said: "None of us had ever seen such a tight timescale. We were working flat out. But we gave Team Sterling just what they wanted and we'll be cheering them all on to the final."
The task was an absolute corker, even by the gruelling standards of The Apprentice. The teams had to come up up with a tasty fast food option, have it manufactured, price it correctly and then sell it successfully at a site chosen by the teams in Edinburgh.
To give them any chance of attracting the crowds, they had to have an eye-catching vehicle to sell their food from - and that was where Totally Dynamic came in.
Mark said: "The catering vehicles that the teams brought to us were in a horrible shade of bright yellow. We transformed Team Sterling's vehicle into a classy matt burgundy colour and Adam Sharpe, owner of Totally Dynamic's centre in Central Scotland, worked on the design for Team Phoenix who elected to go with the uber cool matt black effect.
"Both the designs had to incorporate the teams' promotional wording for the selected products - in the case of Team Sterling, their 'Gourmet Scot Pot' and for Team Phoenix it was all about their 'Utterly Delicious Meatballs".
In all, two members of Team Sterling and three members of Team Phoenix turned up at Totally Dynamic's secret sites to deal with the vehicle designs, while the rest of the teams sorted out the production of the food.
Adrian Rope, Managing Director of Totally Dynamic, who flew up to Scotland to oversee the project said: "The teams turned up at each site in the late afternoon. Mark and Adam then had just a few hours to create a satisfactory design which we then had to get printed at nine o'clock at night.
"When the printed vinyl came back, Mark in one site and Adam in the other worked through the night to transform the vehicles for filming. The boys had them ready to roll out at six in the morning - a bit bleary eyed, but happy with the job."
Emily Assael, of The Apprentice's production company said: "The Apprentice runs to a very tight production schedule and we have to deal with professional people whom we can count on to deliver.
"The Totally Dynamic teams went the extra mile to make sure that everything was ready for another exciting episode."