Our London centres, in Enfield and Redhill, have had a bumper 12 months wrapping all types of vehicles, from buses to supercars.
Taking stock at the start of 2019, we asked our London manager, Scott Coleman, to pick out his favourite wraps from last year. Read on to find out which ones make the top five.
1. A premier wrap for league champions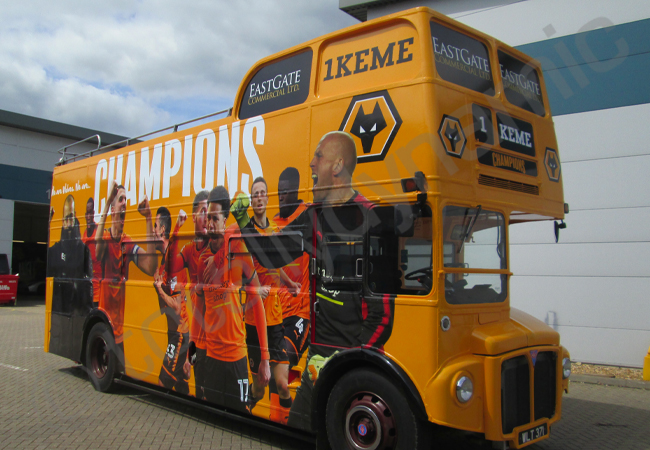 First up is not one, but two open top buses, wrapped for football champions, Wolverhampton Wanderers FC in May 2018.
The team had earned promotion to the Premier League and would be heading off on a victory parade, in two open top buses, around the streets of Wolverhampton. With a super tight turnaround, and two large vehicles to be wrapped, Scott sent one to Redhill and the other to Enfield, where they were transformed into buses fit for footballing champions.
Scott says; "As a football fan, I loved getting to work on these wraps. It was a really exciting time for the club and its fans, and the buses would take centre stage at the celebrations. They had to look fantastic. And needed to be wrapped in no time at all. But we love a challenge! And soon had the entire Totally Dynamic team, working across both workshops, wrapping the buses. From bumper to bumper, the wraps looked fantastic in the team's colours. Wrapped on the Friday, and on parade on the Sunday, the buses were photographed by thousands of fans, as well as press and TV cameras, as everyone cheered for the newly promoted team. It was a really exciting and feel-good project, and shows that vehicle wrapping can make a big visual impact when there's something to cheer and shout about!"
The London Totally Dynamic team used a short term vinyl product, meaning it was easily removed the day after the celebration, so the buses could be back in action, and on the road as soon as possible.
It's not the first time Totally Dynamic has been hired by footballing heroes. The team has also wrapped buses for Chelsea FC and Southampton FC too! And while Scott is a Manchester United fan, he would like to say he's happy to wrap vehicles of all sizes in any team colours!
2. Place a bet on us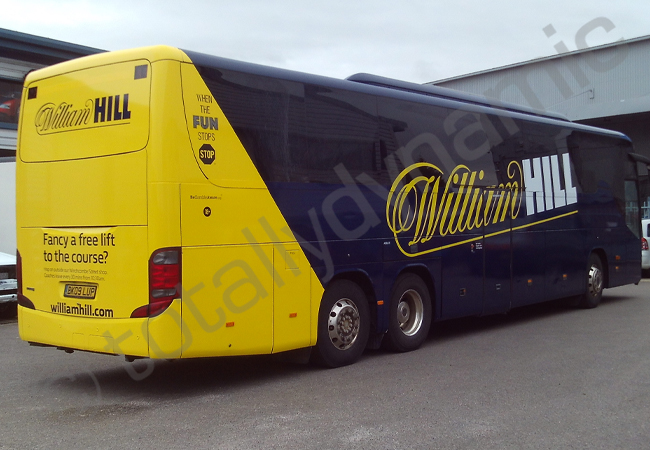 Continuing with the sporty theme, next up is another bus wrap. This time it was for betting agents, William Hill and the job completed for Momentum Coach Hire.
This Setra bus was wrapped before heading off to the Cheltenham Festival of Racing in March 2018, and was the fifth time Totally Dynamic had been appointed to complete the work.
Scott explains; "When it comes to choosing a vehicle wrapping expert, we're a safe bet. And that's why we've been appointed to wrap these William Hill buses for five years running."
"The client is paying to have the buses per day, so we have to turn these jobs around really quickly, limiting the time the vehicles are off the road. Our teams are adept at delivering high quality vehicle wraps, with fast turnarounds."
"Momentum Coach Hire appoint us year after year, and we love seeing this bus leave the workshop, promoting the William Hill brand to thousands of racegoers at Cheltenham."
3. Running laps around the competition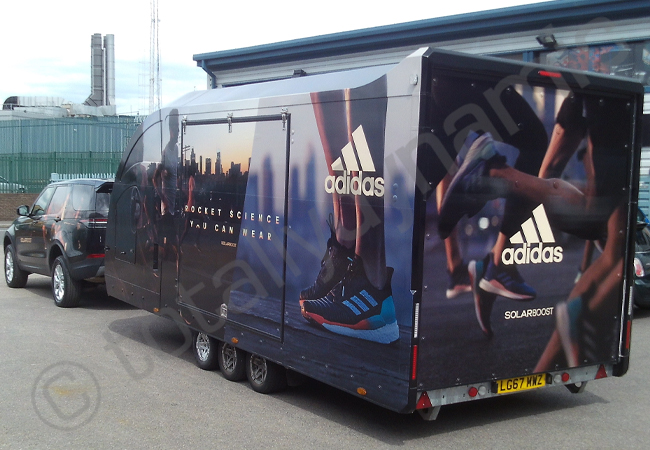 From the racecourse to the running track, this time Scott has selected a vehicle and trailer wrap completed for The Midnight Club agency.
The agency's client is global sports brand, Adidas. And as it prepared to launch a new running shoe, the Ultraboost, the agency approached Totally Dynamic to rewrap its promotional vehicle.
The Land Rover and trailer required a brand new wrap, before hitting the road to visit running clubs in central London, where it would promote the new show and dish out freebies to running enthusiasts.
"When you're trusted by agencies working for global brands, it's a clear sign that your work is of the highest quality, and that's something I'm really proud of. This Adidas trailer was touring running clubs, as a promotional vehicle, and needed to look slick. We stripped off the existing wrap, and applied a new vinyl in black gloss with the iconic three white stripes. The client was so happy that they've come running back to Totally Dynamic to use our wrapping expertise again."
4. Seen it? Want it? Wrap it!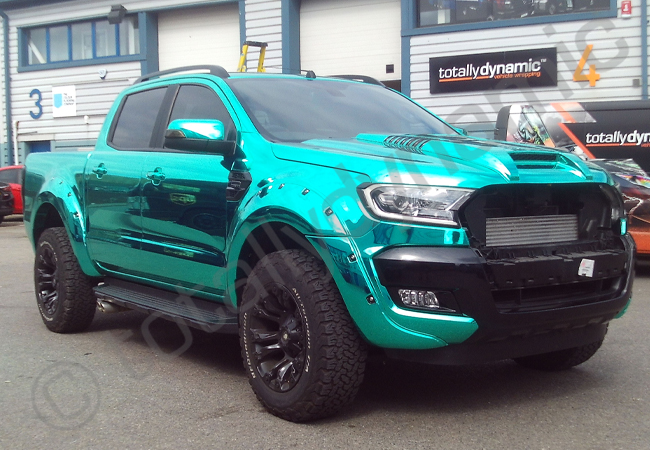 As well as commercial clients, Totally Dynamic helps car fanatics transform their vehicles into something pretty special.
Teaming up with Ford Ranger specialists, Deranged, Scott's team applied this brand new turquoise vinyl to give the customer exactly what they wanted.
Scott explains "Deranged offers custom-built Rangers. The people who buy from them know exactly what they want, and do not want to settle for the norm. That's why I picked this wrap out, as we loved teaming up with Deranged to bring the customers' vision to life. The buyer had seen this colour out on the road, and wanted to recreate it. We've wrapped lots of these trucks in matte black, but this one really stands out as something unique. This wrap went out on the road in July 2018, and I still see it around now. It's satisfying to see that we've created something special for the customer, and they are 100% happy with the end result."
5. Recreating the good old' days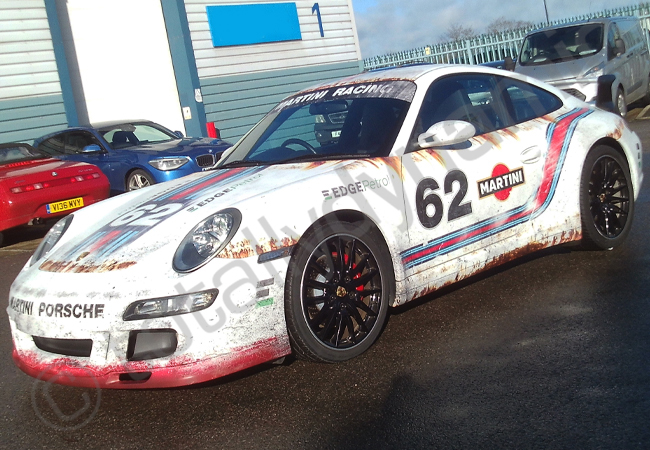 Racing up from the back of the pack is this vintage-inspired Porsche 997, proving that a vehicle wrapping is so versatile, and can make something new appear beautifully old.
Scott explains; "The owner of this stunning vehicle wanted to replicate the look of an old, authentic race car, with the bodywork appearing almost weathered, as if it had battled through hundreds of fiercely fought races.
"They came to us with a great-looking design, but it needed to be worked up into a 3D format, so the end-result could be wrapped around the contours of the car.
"It was a fascinating job, and the final look really splits opinion. Car fanatics tend to love it, and can understand the appeal of driving around in a car that seems to tell a story. While others can't understand why the owner would deliberately make the car look old and worn out! I suppose it's like vintage fashion, it's either your thing, or not. But for us, as a vehicle wrapping job, it was technically interesting and the end result, we think, is something to be really proud of because it' exactly what the owner had envisioned."
"Those classic Martini stripes are so iconic too, I think it's stunning as a piece of replica design, and the owner is having lots of fun driving it at the weekend which is what it's all about."
If you have an idea for a vehicle wrap, and want to bring your vision to life this year, give our team a call today. Contact us here or head over to Scott's Instagram page to see more of his work.