Totally Dynamic, recognised as one of the UK's leading vehicle wrapping businesses, is exhibiting at the Royal Norfolk Show for the first time this June. And on both days (27 and 28 June), will welcome famous local artist, Ruddy Muddy, to stand 310 to create two iconic muddy masterpieces, live before show visitors.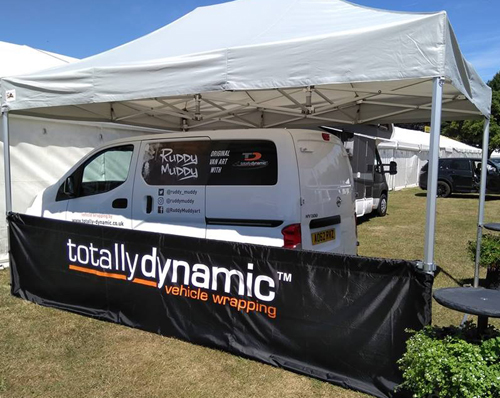 Famed for transforming mud-caked vans into intricately detailed portraits, Ruddy Muddy has depicted Ed Sheeran, Robbie Williams and newlyweds Harry and Meghan in the past, using only his fingertips, cotton buds and raw artistic talent. This month, he has been commissioned by Totally Dynamic to create two masterpieces at the 156th Royal Norfolk Show.
On Wednesday, Ruddy Muddy (real name Ricky Minns) and his co-artist Lynsey Cole (known as Damsel Dragonfly) will create a very special, unique muddy illustration; commemorating the first ever Norfolk Day. Taking place one month after the Royal Norfolk Show on 27th July, the Norfolk Day artwork will be auctioned off, with all proceeds going to local charity, Home-Start Norfolk.
While on day two, Ruddy Muddy will create a commemorative piece in honour of the RAF's 100th anniversary.
Jenny Rope from Totally Dynamic, who will be exhibiting in the show's Motor and Marine area says; "Vehicles of all shapes and sizes are a fantastic blank canvas, and through our creative, colourful vinyl wraps, we help businesses and brands get noticed out on the road every day. Someone who shares that passion for transforming vehicles into something unique is Ruddy Muddy, and we're so pleased to be teaming up at the Royal Norfolk Show, giving visitors the chance to watch his incredible talent in action, while fundraising for a vital Norfolk charity. Our team will also be there to talk about our creative, professional vehicle wrapping service, so please stop by and say hello."
Ricky Minns adds: "I've wanted to do something at the Royal Norfolk Show for a while, so when Totally Dynamic approached me, it seemed like the perfect opportunity. The county has kindly embraced my different type of art and I am so grateful. It is fab to get involved in projects like this to say thank you in my own way to the people of Norfolk. It's great to be able to give back to a small local charity, like Home-Start Norfolk, too."
Ruddy Muddy's Norfolk Day masterpiece will be auctioned for Home-Start Norfolk. Through an amazing network of volunteers, the charity supports Norfolk parents, with children aged five and under, where Mum, Dad or both are struggling to cope for a wide range of reasons.
Helen Brown, funding manager from Home-Start Norfolk adds; "We're so thankful to Totally Dynamic for choosing us for the Ruddy Muddy auction. Families throughout the county need our support. Our services are currently over-subscribed and every penny means we can continue to help families in need, right here in Norfolk."
To bid for Ruddy Muddy's Norfolk Day artwork, email info@totally-dynamic.co.uk before midnight on 18th July 2018, stating your bid amount, full name and a contact telephone number.