At the end of the 2017/18 football season, Totally Dynamic London teamed up with Division One champions, Wolverhampton Wanderers FC, to wrap two double decker buses for the teams' victory parade.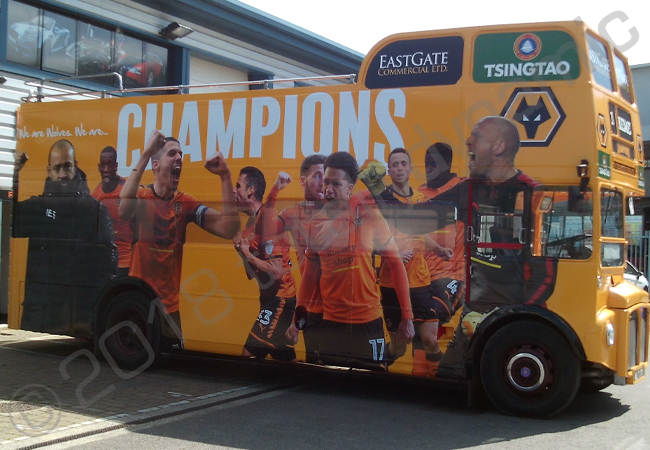 A feel-good footballing story which was picked up by SignLink magazine, who kindly featured Totally Dynamic in the July edition. (You can read the full feature online here.)
Cast your mind back to brighter, warmer days in May, and you might just recall thousands of elated Wolves fans lining the streets, draped in gold and black, cheering as their beloved players held the Championship trophy aloft from an open top bus.
Returning to the top flight after six years, the team had every reason to celebrate in style! And Totally Dynamic were on hand to ensure the two double decker buses were also suitably dressed for the occasion, with each vehicle wrapped bumper to bumper in the Wanderers' famous colours.
Scott Coleman, owner and manager of our London centres said it was an honour to play a small part in the team's celebrations; completing the job of wrapping the Routemaster and Volvo double decker bus in full body vinyl designs.
He says; "With the parade captured by national TV, press and thousands of Wolves fans sharing the event on social media, the buses had to look perfect. It was an occasion the fans will remember for a lifetime, so we made certain both bus wraps were of the highest Premier League quality."
And it wasn't the first time Totally Dynamic had a taste of championship winning football. Our expert team of vehicle wrappers also worked on open top buses for Chelsea FC in 2010 and 2015.
To find out more about our large format vehicle wraps for buses, lorries and other vehicles, get in touch with our top scoring team today.