Young teenager Matthew Hawkins is a future racing star, and we're delighted to have given him our support for the 2019 go-karting season by wrapping his race helmet in bright green and carbon fibre. Even at top speed, you really can't miss him behind the wheel!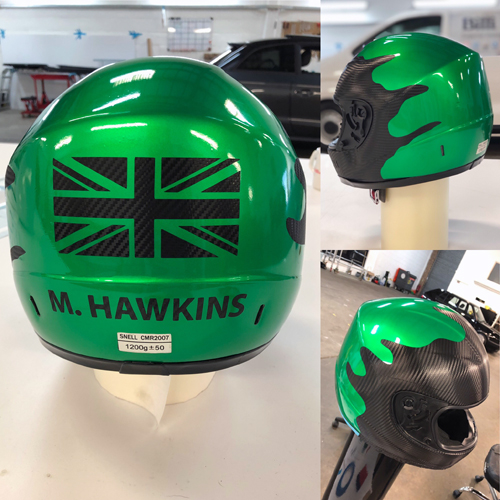 With big dreams of one day competing in Formula 1, Totally Dynamic has given the Costessey-based go-kart racer Matthew Hawkins its full support for a successful season. With our Norfolk vehicle wrapping centre vinyl wrapping his race helmet, for free, by way of sponsorship.

Matthew, who takes part in the National Schools and Youth Group Karting Association (NatSKA), is racing in Class 11 this year, visiting tracks all around the UK to compete against other young motorsport talent. With just a handful of races to go, he's currently sitting in 6th position out of 22 racers.
Matthew's determination to do well is stronger than ever, after overcoming a set-back last year which almost put his racing in jeopardy.
Last September, the teenager was left heartbroken after discovering his go-kart had been stolen from his garage at home in Costessey, Norfolk. But without wanting to miss a single race, his friends, family, the local community and businesses rallied round the youngster to fundraise for a new kart. Matthew was back on the track, just two months later, racing at Camberley in Surrey.
David Sweales, who runs our Norfolk Totally Dynamic Centre was first made aware of Matthew's story, his raw talent and passion for go-kart racing by another Totally Dynamic customer, Gavin Wright Tiling.
David explains: "When I heard about Matthew's ability and his perseverance to keep on racing after thieves tried to stop him, we wanted to get behind him and help out a little bit too. We wrap vehicles for Gavin Wright Tiling, and Gavin approached us to ask if we would support Matthew by wrapping his race helmet for the new season. We're proud to wrap cars and vans for Norfolk businesses and also wrap vehicles, supercars and trailers for world-famous brands from the world of motorsport too, so we absolutely wanted to help out. Matthew had come up with his own design, and we hear he's over the moon with the end result. We hope it brings him lots of luck for the race season ahead."
To sponsor Matthew too, visit his Facebook page @matthewhawkinskarting