Totally Dynamic's South London centre has helped US gaming giant EA spark life into the UK launch of the latest version of its game, Need for Speed - Hot Pursuit.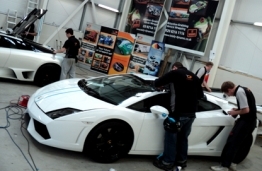 The game features three lightning quick Lamborghinis: a Gallardo, a LP560 and a Murcielago. Our South London centre wrapped three of these supercars to replicate their on screen appearance for the launch event at Longcross Test Centre in Surrey, on 27 October.
Speed was the order of the day - all three supercars were wrapped on the 25thOctober, they were then used at the launch on the 27th, unwrapped the same day and returned in mint condition on the 28th.
During the high profile launch event, the Lamborghinis were driven around the track by members of the grime music collective Roll Deep, recent winners at this year's Urban Music Awards.
Porsches also feature in the game and Ben Collins, formerly The Stig in Top Gear, was on hand to power them around the track during the day.
Scott Coleman, who owns Totally Dynamic's South London operation, said: "We had to turn the job around very quickly, but that was not a problem for the fantastic team we've got here. The Lamborghinis looked fantastic and really brought the game to life for everybody that was down at Longcross Test Centre on the day.
Attention Seekers, the agency coordinating the launch event on behalf of EA, commissioned the job and Scott added: "The agency works on all sorts of high profile events and is continually looking at ways in which it can make a big impact. Our work showed just how visually exciting vehicle wrapping can be and we hope to work together on other projects in the future.