When is a white van no longer a white van? In this instance, it's just about as clear as mud!
With the official start of winter upon us, the sight of white vans caked in mud and grime will become an increasingly familiar sight across the UK.
And that has prompted a leading builders merchant, Selco Builders Warehouse, to drive to the rescue. And we're delighted to be teaming up with Selco to help one van owner clean up their act.
Today (1 November 2018) Selco Builders Warehouse has launched a campaign to find the UK's dirtiest trade van. And the reward for being the owner of the nation's grubbiest vehicle? A stylish, eye-catching and clean vehicle wrap, expertly created and applied by Totally Dynamic.
On a quest to find the nation's grimiest van, Selco Builders Warehouse has also partnered up with our good friend and artist, Ruddy Muddy.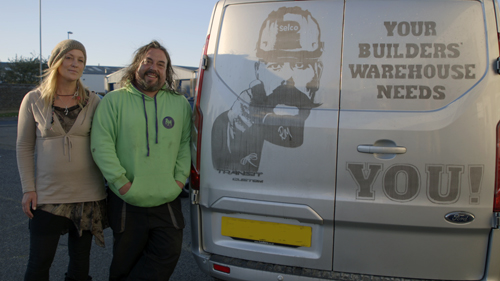 Ruddy, based in Norfolk specialises in creating eye-catching artwork from vans covered in mud. He got the campaign off to a great start by creating an eye-catching 'Selco Needs You' image on a dirty van.
Carine Jessamine, Marketing Director of Selco, said: "With a busy workload, tradespeople often clear their windows but haven't got time to give the rest of their van a regular clean.
"We are doing our bit to help the trade community and ensure that they don't get stuck in the mud.
"As long as the van is safe to drive, we are looking for tradespeople to dish the dirt by either entering their own van – or that of a friend."
Ruddy Muddy, alias Ricky Minns (pictured above with his partner Damsel Dragonfly), added: "For my kind of art, there is no better sight than seeing a van literally covered in mud – and Selco have come up a real treat with this campaign.
"The re-wrap of a van will be a dream prize for a tradesperson and help them begin 2019 with literally a clean start."
Scott Coleman, owner of the Totally Dynamic London centres will work with the winner to create an eye-catching new vehicle wrap. And says; "We'll transform the mud caked van into a stunning design, so the owner can start 2019 with a clean slate, and promote their business out on the road with a sharp new look."
"We've wrapped hundreds of trade vans over the years, in everything from matt black to colourful rainbow designs. As well as looking great, the prize will protect the paintwork underneath from wear and tear too, and work really hard as a marketing tool."
To post a picture of your dirty interior or exterior of a van - or that of a fellow tradesperson - please visit www.selcobw.com/dirty-van before December 31.
With hundreds of trade brands always in stock and open seven days a week, Selco is firmly focused on helping tradespeople complete their jobs as quickly and effectively as possible.
As well as offering trade services, Selco Hire and a café in branch, Selco also has a strong digital presence including a 30 minute Click & Collect service and a free Project List app which allows tradespeople to plan, manage and quote for all jobs through their smartphone.
Head to the gallery to see Totally Dynamic's van transformations. Or contact us today, to chat about your vehicle wrap requirements.