Totally Dynamic's Norfolk centre was recently commissioned by Break, one of Norfolk's longest-established charities, to chrome-wrap one of the GoGo Gorillas that are being used to help raise money for the charity this year.
A number of the gorgeous, life-sized gorilla figures - each completely unique in appearance, colour and design, have already started to appear in eye-catching locations across Norwich and lots more are set to follow.
Calling on all the skills of David Sweales and his team at Totally Dynamic's Norfolk centre, the chrome version of the GoGo Gorilla (christened Chromilla) is aiming to put a smile on the faces of Norwich commuters and visitors alike, as well as ultimately raising funds for an excellent cause.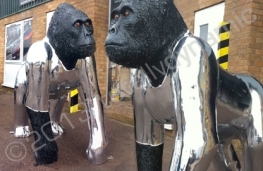 Once the display period comes to an end later this year, all of the Gorillas, resplendent in their unique designs, are being auctioned off in order to raise funds for Break charity's mission of providing holidays and respite care for children and adults with learning difficulties.
Totally Dynamic were the only company in the region with the experience and expertise to handle the Chromilla brief as chrome can only be applied by the most experienced wrap technicians.
David Sweales, owner of Totally Dynamic's Norfolk centre said, "We've wrapped hundreds of cars, vans, lorries, exhibition units, buses and boats, but this is the first time we've been asked to tackle a gorilla!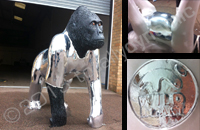 "We spent a long time advising the artist on what was achievable and worked very hard to make it a reality. I think it has paid off as Chromilla looks very striking - but I personally wouldn't want to walk into her after an evening in the pub."
The dazzling chrome creation was the brainchild of artist Phil Daniels, in association with the Go Wild in Art project backed by the World Wildlife Fund.
You can learn more about this fantastic project by visiting www.gogogorillas.co.uk.