Totally Dynamic now hold the record for carrying out the single largest chrome project ever in the UK.
So what did they wrap? A Tesco's articulated lorry of course!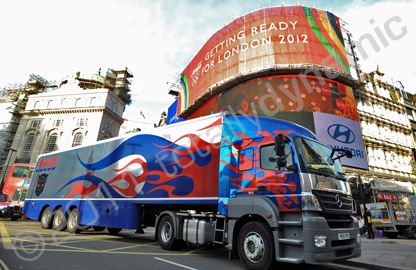 Tesco's decided they wanted their lorry to be wrapped in line with the new Transformers film and came up with the idea to wrap it like a Transformers character - Optimus Prime.The wrap project was carried out following a request by long term driver Paul who wanted to 'pimp up his Tescos lorry'.
Totally Dynamic wrap lots of cars in chrome but its not often a lorry is wrapped in chrome. Chrome is a very difficult material to work with so even more tricky with a chrome lorry wrap. Being the market leaders in vehicle wrapping Totally Dynamic were more than happy to create Paul's 'pimped lorry'.
Earlier this year Totally Dynamic were asked to wrap an Aston Martin in chrome as a new centre piece at Aston Martin's HQ. They have also wrapped a number of cars in attention grabbing colours for celebrities like Peter Andre, Wayne Rooney and Judge Jules.
If you are looking for a vehicle wrap to grab some attention for your brand then please have a look at some of Totally Dynamic's other projects