Dads everywhere will be kicking back this Fathering Sunday, enjoying a chilled beer in the garden while the barbecue hots up (British weather permitting of course!).
And while we treat our hard-working Dads to a relaxing day, we like to think that Totally Dynamic has played a small part in bringing his favourite beer to his door.
Beers and ales need to get from A to B; from brewery to your back garden (via the pub, brewery shop, supermarket or local specialist ale shop) and that means taking a ride in a branded delivery van.
Well at Totally Dynamic, nationwide, our team has been busy wrapping the vehicles of several breweries and drinks companies; making sure their vehicles are looking on-brand, slick and summer-ready for delivering those all-important casks, kegs and bottles to beer drinkers throughout the UK.
From big name brands like Heineken, Budweiser and Strongbow to London-based brewery Howling Hops, our team at Totally Dynamic have been wrapping their vans and promotional buses in full vinyl designs, showcasing these much-loved beer brands in bold, bright and impactful designs.
Here are some of the latest vehicle wraps we've been brewing at Totally Dynamic.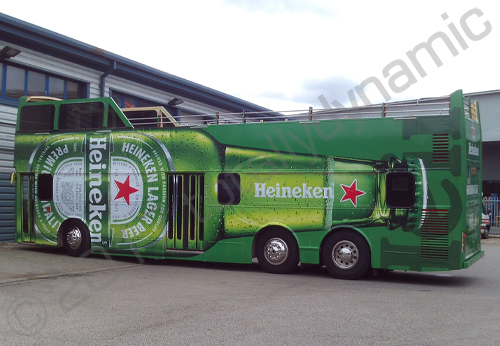 This full vinyl wrap of an open-topped bus was delivered for Heineken, in its signature stand-out green. Possibly the biggest bottle of beer you've ever seen? Our Enfield team like to take on any vehicle wrapping challenge, and certainly pulled out all the stops to serve up a winning design here.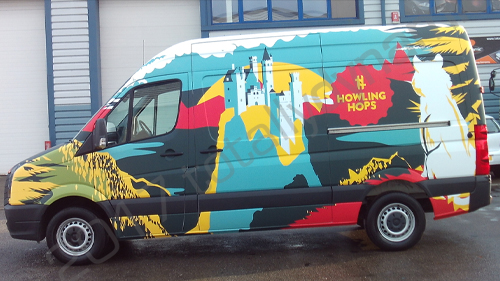 This VW Crafter was wrapped for London brewery, Howling Hops. Known for their bold and characterful beers with bags of flavour, this bright, fearless vehicle design by our Totally Dynamic Enfield team definitely brings their brand personality to life!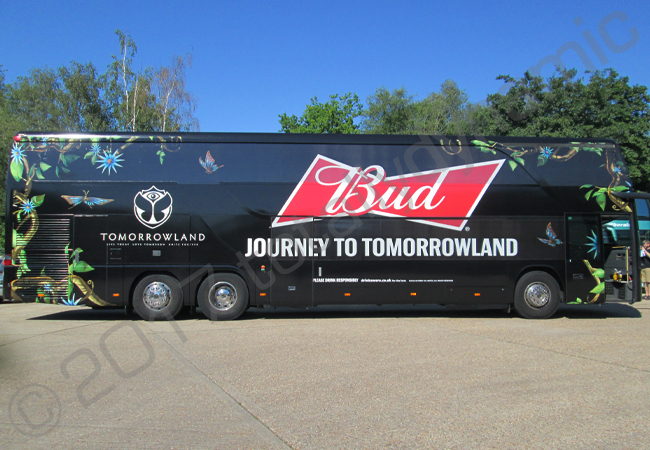 Promotional campaigns reach a peak of activity over the summer months, as drinks brands reach out and engage with fans at live music events and festivals, tapping into the feel-good vibe that the sunnier weather brings. Budweiser launched a great campaign last year, giving fans the chance to win tickets to one of the world's most exciting and notable dance musical festivals, Tomorrowland, in Belgium. And this coach, wrapped by our London team, took the winners on their journey. (Shame we didn't get to hop in for the ride!)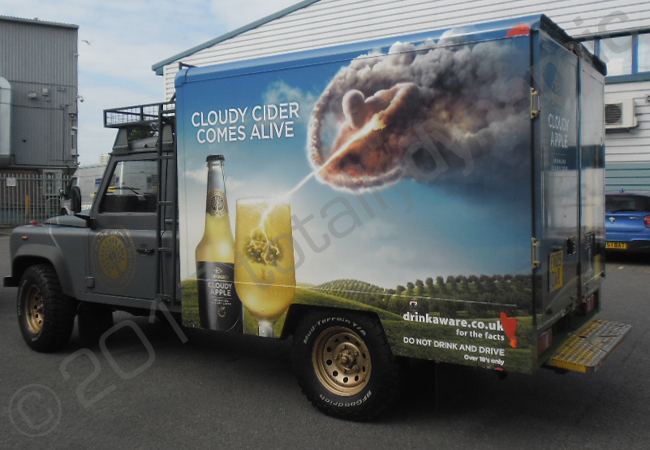 If cider's your tipple, then perhaps you've spotted this wrap for Strongbow out on the road? A chunky modified Land Rover Defender was given a full vinyl wrap by our Enfield centre to promote the brand's latest sparkling, cloudy apple cider. And we hope you agree, it definitely hits the spot!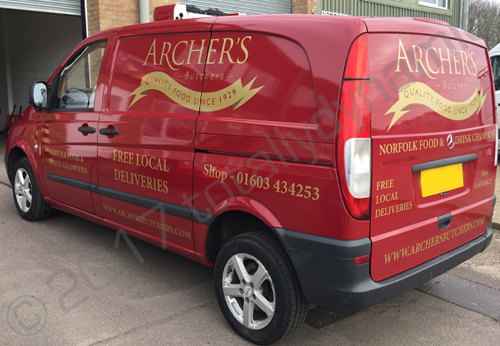 And of course, no Father's Day barbecue would be complete without the bangers! Norwich butchers, Archer's, best-known for their award-winning sweet tang pork kebabs, also come to Totally Dynamic for their vehicle wraps. This delivery van has just been in to our Norfolk workshop for a summer refresh, with a full wrap and rebrand. Ready to deliver sausages and steaks to customers all summer long.
So if you're a microbrewer, craft brewer, big name drinks brand, or indeed, a butcher, and need to bring your brand alive, out on the road with an impactful full vehicle, vinyl wrap, please give our expert team a call. If they could be paid in beer tokens, we're sure they would!

Cheers to a Happy Father's Day and to a refreshing summer for everyone.