High flyers in the top tax bracket will be heaving a sigh of relief today (Thu, March 22) in the wake of Chancellor George Osborne's Budget 2012 decision to scrap the 50p tax rate and replace it with a ceiling of 45p.
But they are unlikely to be cracking open the magnums of Bollinger in a raucous eighties style fizz-fest – the fact that we are still living in an age of austerity has been too thoroughly drummed into us.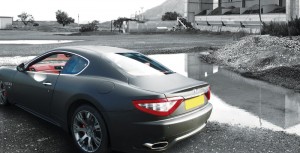 Consumer spending is still subdued, the squeezed middle is shopping at Aldi instead of Waitrose and even those on £150,000 a year and above, who benefit from the new tax drop, are seeking out value for money.
That's why many savvy owners of high performance cars are turning to vehicle wrapping when they want to change the outward appearance of their prized possessions.
Wrapping is the cost-conscious consumer's ideal way of giving a vehicle a fresh new makeover, with a finish to rival most good quality body shops.
But no longer are luxury car drivers confined to the colour or finish choices dictated by the factory. Totally Dynamic provides a stunning array of stylish and bespoke colours, including the ubiquitous Matt Black (The Stealth Look), Gloss White, Matt Metallics,Carbon Fibre and Chrome.
It's not just performance drivers who are queuing up for the Totally Dynamic look. Even if, like most of us, you are not one of the top 1% elite earners, vehicle wrapping makes good financial sense as it helps to protect the paintwork, leaving a higher residual when it is removed.
The tough and durable film protects the vehicle from stone chips, road staining and day-to-day bumps and scratches.
Jennifer Rope, director of Totally Dynamic, said: "All drivers, whether they are in the top tax bracket or not, want their vehicles to look as good as possible, and wrapping provides all the answers in a smart and cost-effective way.
"The possibilities are enormous, with a huge choice of colours which can be colour-matched to a desired shade. And the great thing is that, if your aspirations change, you can just take it off and start again."
So having heard the Budget 2012 you would like your super car to look brand new take a look at our car wrap gallery