A single day of mega bargains? Not at Totally Dynamic – during the entire month of November our centres are offering a stonking 10% discount on all matt or gloss black wraps. The catch? There isn't one really, but the wraps do have to be carried out during November 2016 to qualify.
Black vinyl wraps are still some of the most popular that our centres are asked to carry out.
The matt black car wrap oozes style. The understated appearance is an essential part of the 'stealth' look and the whole effect will have people doing a double take.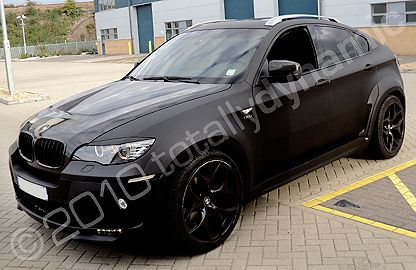 Gloss black wraps on the other hand are particularly popular with those people who have an eye for a bargain when buying a car or van in an unpopular colour. The wrap will completely transform the appearance into a smart and stylish look.
Wrapping a vehicle offers a great non-permanent solution, whilst protecting the paintwork underneath from scratches and abrasions. This keeps your car in pristine condition for as long as the car wrap covers it. When the wrap comes off, the paintwork will be as perfect as it was when it went on, provided it was OEM standard at the point of installation.
With a black car wrap, once you're bored of it – or the trend has passed – your car can easily be restored back to its original colour.
For more information or a free no-obligation quote then please contact us on either 0800 046 9970, email info@totally-dynamic.co.uk or click here to find your nearest Totally Dynamic centre