As the UK's leading vehicle wrapping company we are often asked to wrap vehicles and trailer for films, TV and adverts. This month it was BBC The Apprentice programme.
The task was to wrap two catering trailers which had to be designed and wrapped within a few hours.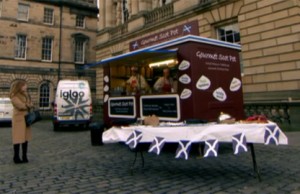 With only a very limited time to design the wraps for the BBC The Apprentice teams, the trailers were then wrapped through the night so they were ready to hit the high street first thing Sunday morning.
Adrian Rope, managing director of Totally Dynamic, who came up to Scotland to oversee the project, said: "The teams turned up in the late afternoon. Then we had just a few hours to create a satisfactory design and we sent it to the printer at nine at night.
"When the printed wrap came back, Adam in one site and Mark in the other worked through the night to transform the vehicles for filming. The boys had them ready to roll out at six in the morning – a bit bleary-eyed, but happy with the job."
It was then all in the hands of the BBC The Apprentice teams to work their magic and 'sell, sell, sell'.
Our experienced vehicle wrappers and designers loved the challenge and were back to wrapping high end cars and commercial projects as normal on Monday morning.
All in a days work at Totally Dynamic.
BBC The Apprentice – its a wrap!