As the people of Leicester celebrated Leicester City Football Club's massive victory at a city-wide procession on Monday 16 May, everyone at Totally Dynamic was also in celebratory mood. That's because it was team TD that wrapped the Barclays double-decker bus that carried competition winner Steve Worthy to the Foxes ground on Saturday to present the team with the Premiership League trophy.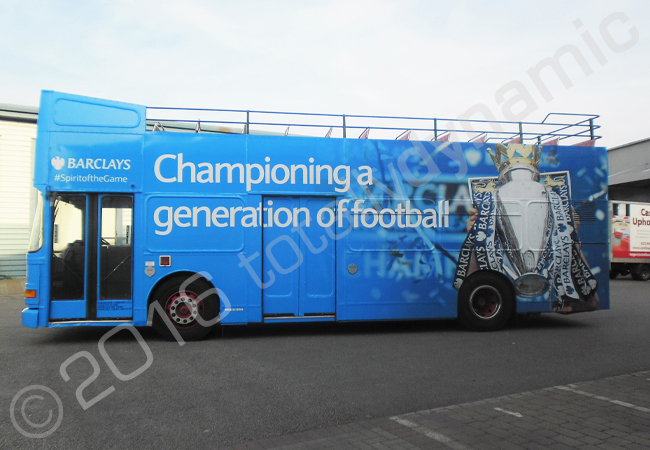 The Foxes were crowned Premier League champions 2016, marking the culmination of an incredible run for the East Midlands club. After almost being relegated last season, bookies gave Leicester odds of 5000 – 1 to achieve the top spot, so the loyal fans who were prepared to bet on their team are laughing all the way to the bank.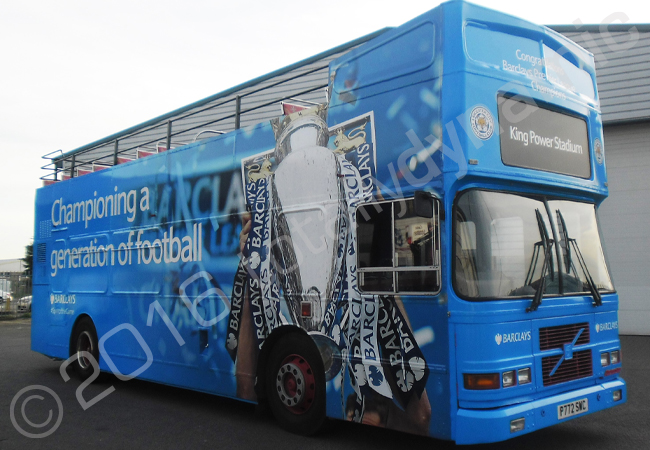 Just like when Leicester City was promoted to the Premier League in 2014, it was one hell of a party for the fans after Leicester's 3-1 defeat of Everton on Saturday and Steve Worthy, a diehard Leicester supporter and season ticket holder for 15 years, handed the Barclays Premier League Trophy to Wes Morgan in front of 32,000 fans at the King Power Stadium. Millions watched their crowning moment on broadcasts worldwide. with football fans of all ages celebrating this incredible achievement.
The Barclays sponsored open-top bold, blue bus wrap design was created by Scott Coleman, the owner of the Totally Dynamic vehicle wrapping centres in North London and South London. An experienced graphic designer, Scott worked closely with the team at Barclays to create a design which definitely turned heads as it toured the city of Leicester.
Totally Dynamic has a proven track record when it comes to championship bus wraps. Scott and his team have wrapped three celebratory buses for Chelsea Football Club; we think his number must be on speed dial by now!
Of course when it comes to wrapping a bus to celebrate a league win, we don't get masses of notice. Luckily Totally Dynamic has a fantastic crew of experienced vehicle wrap technicians so we can pull together a crack team to meet urgent deadlines and complete massive projects such as the Barclays Leicester City Football Club bus wrap.
Congratulations to the Foxes from all at Totally Dynamic!