It's not that long ago that if you saw graphics on the side of a vehicle they would have been painted by hand by skilled artists with an extremely steady touch. As technology developed, we moved away from brush strokes to cut out letters, which could be stuck on to the vehicle's paintwork and then later removed.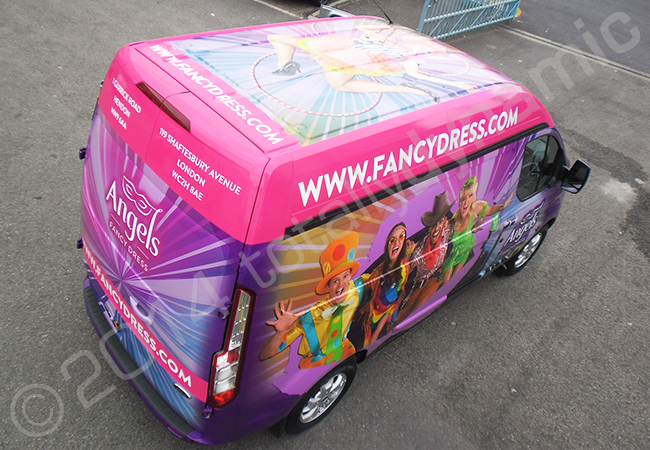 Moving on further, we now have state of the art wrapping technology available to us; allowing the entire surface of a vehicle's paintwork to be covered in a 'second-skin' of printed .
But what are the main advantages of wrapping as opposed to more traditional methods of sign-writing?
1. Transformation
Vinyl wrapping involves covering a section of your vehicle, or indeed the whole thing, with specially printed, self-adhesive . The effectively 'wraps' the body of the car, van, trailer or lorry; creating a second skin and completely transforming the way it looks. You can take an average looking white van and turn it into an eye-catching mobile advertisement that will make potential customers stop and take notice of your brand.
2. Creativity
When designs are produced for wrapping, they are created to fit with the shape, size and contours of the vehicle and the personality of your brand. Unlike traditional signwriting, with wrapping there are no restrictions when it comes to the design you choose. You can incorporate photographs, illustrations, text and patterns to create a completely unique design which reflects your business and includes a really clear call to action.
3. Flexibility
Back in the day, when graphics were painted on a vehicle the only way to remove them was to re-paint, or re-spray, the area concerned. With wrapping you can simply peel off the wrap and start again at the end of a campaign or when your brand identity is updated. If an area of your vehicle gets damaged, design and print technology allows for a icular area of the wrap to be re-printed and re-applied. You don't have to replace the whole wrap.
4. Protection
When done well, using good quality, specialist wrapping materials, wrapping can protect your vehicle's paintwork from stone chips, minor abrasions and other road damage. If your vehicle's paintwork is in good condition when the wrap goes on, it will be the same good condition when you remove the wrap.
5. Asset value
Whilst limited signwriting can be a cost effective choice for businesses on a budget, it's worth considering that paintwork is affected by UV rays and the colour of your vehicle is likely to fade slightly over the years. When you remove your individual letters, or a small area of signage, you could be left with a shadow effect which could reduce the re-sale value of the van. With wrapping of larger areas, you are not left with uneven areas of paintwork, thus protecting the resale value of your vehicle.
If you'd like to talk about how a wrapping could benefit your business, please give us a call on 0800 046 9970 or email info@totally-dynamic.co.uk