For the majority of us, wrapping is a job we spend a lot of time on in December (or maybe November if you're one of those annoying super-organised types who likes to get the presents sorted early!) But for the team at Totally Dynamic in Norwich, London and Surrey, wrapping is what we do, and what we do best, all year round.
As we reach the end of 2018 and reflect on another busy, successful year, we thought we'd share a few of our vehicle wrapping highlights with you.
It was no easy feat picking our top five wraps of 2018, but we've whittled them down with the help of our Norfolk centre manager, David Sweales.
So as we call 'it's a wrap' on the year; here are just a few of our favourite projects from 2018, featuring a Dodge Challenger to a Porsche GT3R previously raced by Sabine Schmitz, to trailers that tour the F1 European circuit, we've enjoyed every single wrapping day here at Totally Dynamic.
1. Pirelli trailers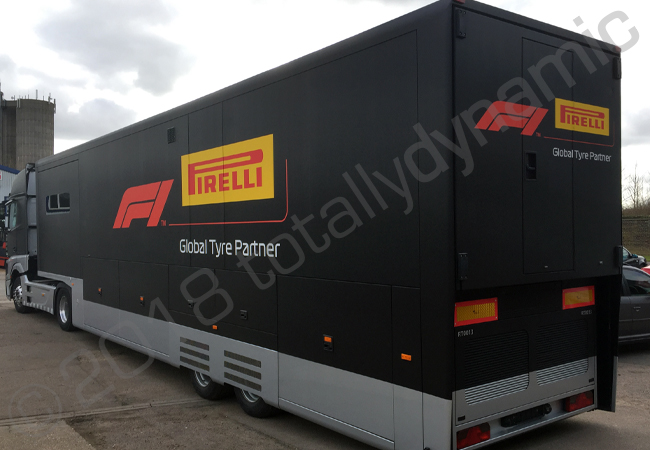 David says "At Totally Dynamic Norfolk, we have worked with Pirelli tyres since 2015, vinyl wrapping their Formula 1 support vehicles. It's a brand we're really proud to team up with, year after year. And in 2018, our Norfolk team had the chance to re-wrap the support trailers once again, before the team headed off to the Formula 1 circuits in Europe. Wrapping 11 trailers in total, we love getting to grips with these large-scale vehicles and producing new vinyl wraps to ensure the Pirelli brand looks as slick and smart as can be, ready for race day."
2. Porsche raced by Sabine Schmitz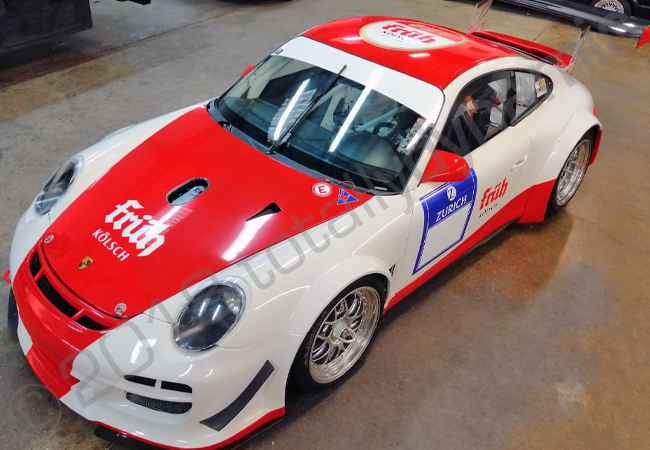 "The name Sabine Schmitz requires no introduction for motorsport fans. Dubbed the 'Queen of the Ring', until very recently Sabine held the record for the fastest lap around the Nürburgring in a ford transit van! This year, our team at Totally Dynamic Norfolk were able to get to get up close with a slightly more sophisticated piece of automotive engineering, this incredible Porsche GT3R. Raced by Sabine in the past, it's current owner wanted to give it a fresh new look with a part vinyl wrap to replicate the livery driven by Sabine in the past. We're very fortunate to work with these incredible cars, day after day."
3. Colour shifting wraps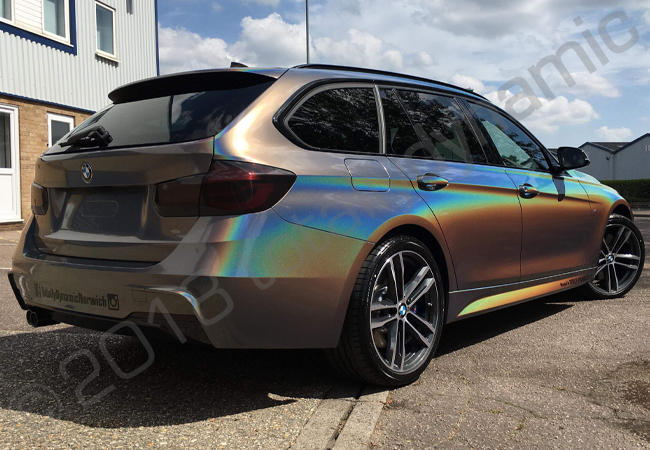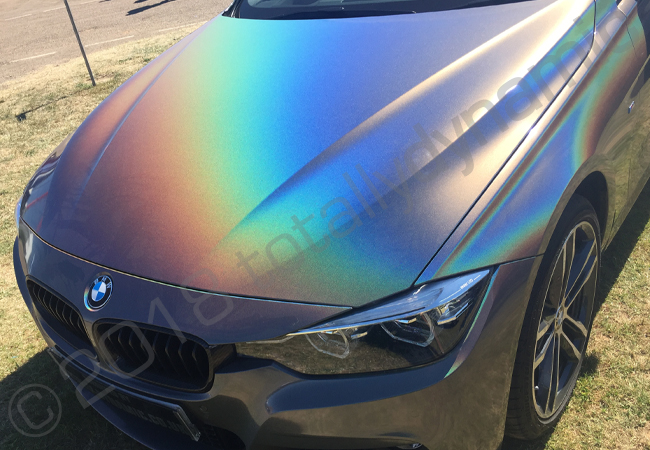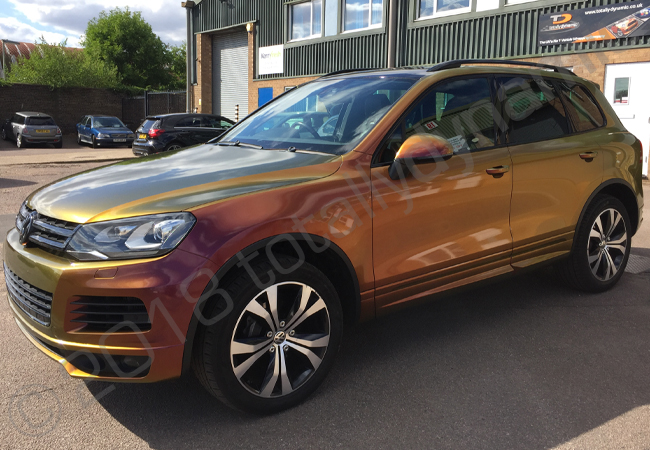 "From dark matte black to shade shifting wraps, we can create a colourful wrap to suit any vehicle and any personal taste. And these two wraps show off that capability, applying two new vinyl products that arrived at Totally Dynamic in 2018. The BMW is wrapped in a psychedelic finish and the VW Touareg is wrapped in 'gloss rising sun'. The flip colours stand out from the crowd, and really grab attention. So if colour is your thing, and you want your car to reflect your colourful personality, chat to us about the endless possibilities to create something really different and unique with a full body vinyl wrap."
4. Black matte wrap for Dodge Challenger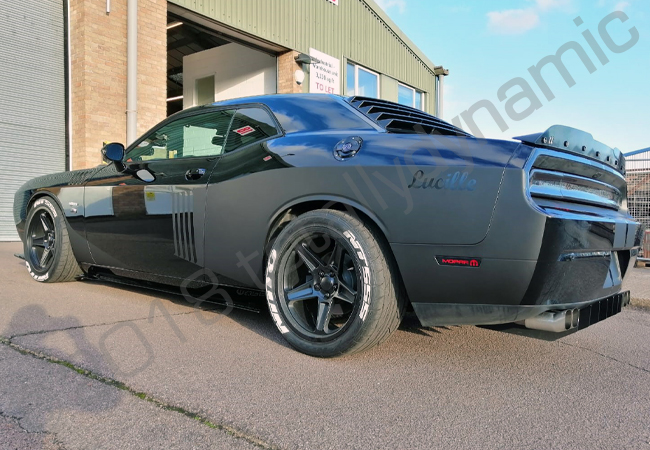 "A real American mean machine, kicking out 700bhp, the roar of this Dodge Challenger as it revved into the workshop stopped us all in our tracks! As well as full vinyl wraps, we can complete part wraps too, which is what we did here, in a matte black finish; suitably fierce for this beast of a car."
5. Chilled Driving Tuition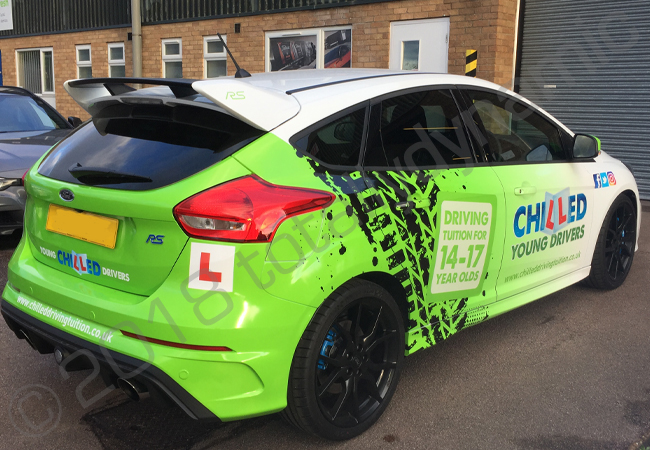 "Another long-standing client, we've been the vehicle wrapping partner for Chilled Driving Tuition since 2012. This year, the Norwich-based driving school created a brand new livery, which we applied to some of the vehicles in their fleet. Bold, smart, clear branding and fresh new vinyl wraps mean the cars are easy to spot out on the roads, and give new drivers a sense of pride as they step behind the wheel for the very first time."