Automotive Franchise Opportunity
Vehicle wrapping is one of the most exciting and fastest growing areas of the automotive franchise industry. It is rapidly becoming the preferred way for businesses to promote their goods and services on anything from company cars to trucks and buses.
With an exciting product range, a largely untapped market and the experience of the Totally Dynamic team behind you, this could be the automotive franchise opportunity you have been looking for.
The Concept
Totally Dynamic is the UK's largest multi-centre vehicle wrapping company providing a unique automotive franchise opportunity. It's primary aims are to provide the best possible design, production and installation of full colour digitally printed wraps onto cars, buses, trains and commercial vehicles. And also to provide the highest quality colour change wraps to the consumer market.
The Market
Vehicle wrapping is one of the fastest growing areas in the large format digital print and signage industries. In any town or city it is becoming more and more commonplace to see both companies using colourful vehicle wraps to get their sales message across and individuals simply changing the colour of their cars to the latest must-have shade.
The Potential
Currently there are very few companies in the UK specialising in providing high quality wraps, which is why Totally Dynamic seized the opportunity to become the first nationally based provider of the complete vehicle wrapping service from design to installation.
Using years of combined experience, the award-winning support team at Totally Dynamic will provide you with the skills required to undertake the most adventurous wrapping projects.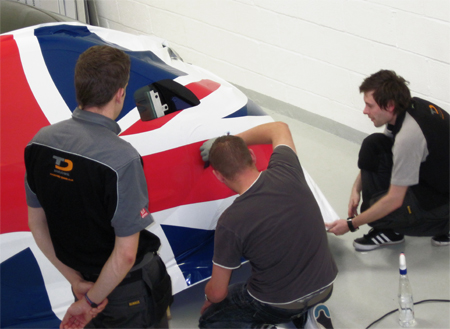 Our Franchisees
It will be your role to develop your vehicle wrapping business, recruit and train quality staff, maintain the high professional standards we have set and to maximise business opportunities within this automotive franchise.
Marketing, design, sales and installation, you must be willing to operate your business under our full business format system, and to adopt any new methods as they are introduced. As of a growing network, you must be a team player, be prepared to share experiences and have a genuine desire to provide the very best service to your customers.
Combined Teamwork
As in any successful network, teamwork is critical. Rather than being a sole trader and isolated (the common complaint of most small businesses), you will be of a growing team and have the backing and strength of our award-winning head office team. We can learn from each other and feel proud to be of a 'larger family'.
Advantages of becoming a Totally Dynamic Franchisee
With a Totally Dynamic car wrapping automotive franchise you will receive a complete turn-key business package covering all aspects of the operation – leaving you free to concentrate on developing your business.
Our comprehensive training programme covers all aspects of the Totally Dynamic business from product knowledge and installation processes to business procedures and management techniques.
Here are just some of the advantages you can benefit from:
Proven business concept
Increasing demand for product
Quality products competitively priced
Bespoke business administration software allowing easy management of all day to day activities
Strong brand association with quality vehicle wraps
Excellent gross profit margin
First class training leading to industry recognised accreditation
On-going business management consultancy
Strong management team to advise you
Hugely powerful website which will help drive customers to you
Fast growing market – little competition at our end of the market
Substantial library of images showing completed projects
Fourteen years of vehicle wrap experience available to you
Great opportunity for repeat and referral work
Our network of vehicle wrapping franchisees to share knowledge and experience with
Extranet
The UK's only European Partner for vehicle wrapping of Avery Dennison
One of the only 3M MCS accredited vehicle wrap companies in the UK
Wide range of high quality marketing materials are available
Who are we looking for?
Total determination and enthusiasm to succeed
Quality driven attitude
Consistent and level headed approach to all things
Ability to network in local community
Entrepreneurial skills and vision
Hard working and committed
Self-motivated
Positive outlook
IT literate
Leadership qualities
Organisational skills
Prepared to listen to advice and guidance
Able to work within a predetermined system
Team player
The total franchise licence and package fee is £28,000 plus VAT for this automotive franchise opportunity. In addition to the franchise fee you will need approximately £20k- £60k for the initial set-up. We will give you a full breakdown of set-up costs and income projections if your initial application is successful.