The most prestigious motoring event on the international calendar took place this month – the Geneva Motor Show. Renowned globally for its big launches, announcements and car reveals; this year really didn't disappoint.
Boasting the biggest display of the world's latest cars, Geneva Motor Show welcomes the planet's most respected motoring journalists and critics for two days of press day activity on 6 and 7 March, with endless glamorous reveals and launches, before throwing open the doors to the public on 8-18 March, and enticing car lovers with the newest, shiniest cars to hit the market.
It's on those two press days when the exciting stuff happens, with journalists and critics given the very first, very exclusive sight of what the big-name motoring brands have been keeping top secret, until that moment.
Now that Geneva is all wrapped up for another year, we've trawled through the reports and reviews, and give you our top three Totally Dynamic highlights from this year's tech-driven show.
And if our snapshot leaves you wanting more, head over to Car Magazine or Sunday Times Driving to read everything you need to know about the best new cars from Geneva 2018.
1. Car of the Future - Lagonda Vision Concept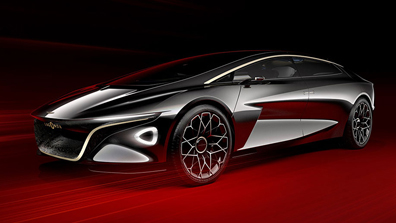 The reveal of this Aston Martin concept car remained top secret until show day, and it didn't disappoint. With this super luxurious, super tech-driven concept car, Aston Martin plans to bring back its old nameplate, with two new models set to hit the market by 2023. Bringing back the Langonda as an 'all-electric, boutique super-brand' it will become the world's 'first luxury brand exclusively driven by zero-emission powertrain technologies'. Combining glamour, technology and luxury, the future for Aston Martin looks pretty exciting.
2. Car of the moment – the Jaguar i-Pace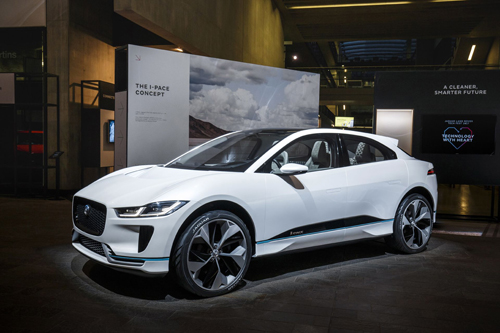 With the trend and demand for SUVs unwavering, critics at the Geneva Motor Show declared the Jaguar i-Pace as one of the stand-out stars of the 2018 event. A five-seat family car, Car Magazine describe it as "a slim line SUV that is aimed firmly at people who like to drive. It looks like a mid-engine sports car on steroids – note the cab-forward stance – and uses its EV architecture to great packaging advantage". Launching the British brand into the electric market, the i-Pace goes on sale this summer, starting at £63,495.
3. Car of your dreams - Lamborghini Huracan Performante Spyder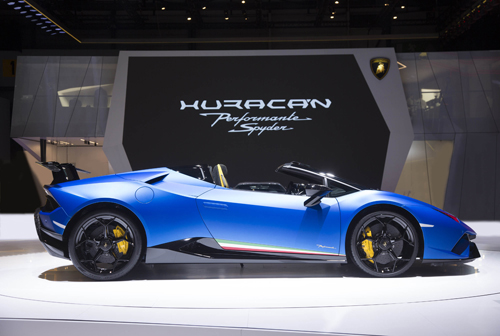 This is the newest model from Lamborghini, and based on the coupe that broke the Nürburgring lap record, last year. Going from 0-62mph in 3.1 seconds, with a top speed of 202mph and an electric powered soft-top, if you won the lottery, this car would be right up there on your wish list wouldn't it? Priced at around £235,000 critics say it simply has to be driven roof-down, if only to appreciate the 631bhp 5.2-litre V10 engine that revs to more than 8,000rpm and according to James Mill at the Sunday Times "sounds better than the Royal Philharmonic Orchestra."
We've wrapped so many supercars in our time, including this Lamborghini Aventador for the 2016 Modball Rally. We'd love to put our vehicle wrapping skills to work on the latest Lamborghini Huracan Performante Spyder, and add it to our gallery of supercar wraps!